Leigh Timmis, round the world cyclist, presenting tips & anecdotes for success at one off event at Derby's iconic 3AAA County Ground on 18th October 2018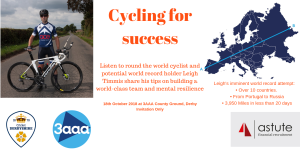 Leigh Timmis is a remarkable fellow. Having cycled around the world over 7 years his latest adventure sees him fly to Carbo da Roca in Portugal in just a couple of weeks to attempt to break the Guinness World Record for cycling across Europe in the fastest time!
Over 10 countries.
From Portugal to Russia
Some three thousand nine hundred and fifty miles.
In less than 20 days. (a staggering 9 days less than the current World Record!)
Leigh and his carefully recruited team, will attempt a world first and put another Derbyshire person in the spotlight after Adam Peaty's exploits at the European Championships.
On Leigh's hopefully triumphant return to the UK from Ufa in Russia, he will have some much deserved rest. Then his first engagement will be at Astute Recruitment's Business Breakfast at the home of cycling in Derby's iconic 3AAA County Ground on the 18th October from 7.30am.
Local business people will join Astute to hear Leigh pass on some great tips and anecdotes around how he created a world-class performance. You will learn about how crucial mental health is in achieving goals, mental resilience and how to overcome pitfalls along the way.  Leigh will also talk about how important it is to have the right team around you – a key issue for many SME businesses at the moment.
You can follow Leigh's journey via the BBC Worldwide and on Leigh's website https://www.leightimmis.com/ and support his charity Transforming Mental Health.
All of us at Astute are delighted to have Leigh as our guest speaker and to book tickets for what promises to be an unforgettable morning please click on the Eventbrite link HERE to secure your place.
We look forward to seeing you there.