Last Chance to see Leigh Timmis at our #CyclingForSuccess Business Breakfast Thursday 16th October 2018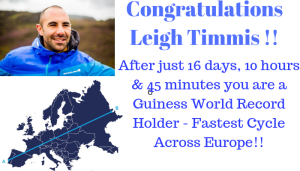 We can't believe its only 2 days until our Business Breakfast with Leigh Timmis. Leigh today received the fantastic news from the people at Guinness World Records that his cycle across Europe is officially being entered into the record books.
While Leigh is over the moon with today's acknowledgment, for him it was how he did the journey and what got him to the end that is truly inspirational. Hear Leigh talk about how he built a world-class team for his European World Record feat and much more around Mental Health, how to achieve your goals and exceed expectations.
To view more details for Thursday's event and confirm attendance – please click HERE.
There are only a few spaces left so you will have to be quick!