International Women's Day 2021 – #ChooseToChallenge – What is IWD and why all of us at Astute Recruitment support this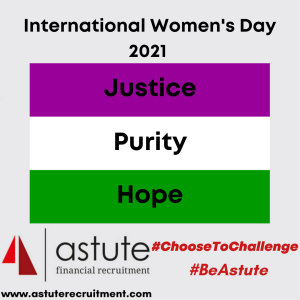 Purple, green and white are the colors of International Women's Day. Purple signifies dignity & justice, green symbolises hope. White represents purity. The colors originated from the Women's Social and Political Union (WSPU) in the UK back in 1908.
International Women's Day celebrates the cultural, sociological, economic, and political achievements of women across the globe. Far from singling out women, the day focuses on unity, equality, and advocacy where the differences and injustices between women and men are as great as ever in some corners of the world.
International Women's Day is a global, annual opportunity to celebrate the social, economic, cultural, and political achievements of women. The day also marks a call to action for accelerating gender parity. Significant activity is witnessed worldwide as groups come together to celebrate women's achievements and rally together for women's equality.
Marked annually on March 8th, International Women's Day (IWD) is one of the most important days of the year to:
Celebrate women's achievements
Raise awareness about women's equality
Lobby for accelerated gender parity
Fundraise for female-focused charities
The campaign theme for this year's International Women's Day is #ChooseToChallenge. On the IWD website, organisers said:
"We can all choose to challenge and call out gender bias and inequality. We can all choose to seek out and celebrate women's achievements. Collectively, we can all help create an inclusive world".
Over 20 countries particularly across Asia celebrate March 8th with a day off work for everyone, while others allow all women to take a day off.
Many people may think International Women's Day is a modern invention, but it's not.
First acknowledged back in 1911, becoming a cornerstone holiday in the Soviet Union from 1917 (even being a day off from work from 1965 onwards). Since 1977, the United Nations has made it a focus day for both women's rights and world peace.
To read more about the historical timeline of International Women's Day, click on the link below: –
https://www.internationalwomensday.com/Activity/15586/The-history-of-I'd
Here at Astute, we celebrate our very own inspirational women! We are proud of our diverse team, embracing women at all stages of their lives and working careers.
From Mary Maguire and Sarah Stevenson as our award-winning Founders to Sarah-Louise Wykes, achieving several promotions from trainee to Director. A busy wife and mum who manages to juggle family life and a highly successful career. Charlotte Sproat, successful Consultant and keen arts enthusiast, and Tiarna Boler who at 17 years of age started working for us over 4 years ago and now manages our admin. Last, but no means least, Debbie Jackson, with over 20 years of recruitment expertise in London, the Midlands, and North East. She has just completed her first work anniversary in our team!
Wives, girlfriends, daughters, mums, businesswomen.
Ladies, we salute you!
PS. We also have some great men too!
Richard Bowe, busy husband, Dad, and keen runner who is ahead of the rest filling senior interim to permanent finance roles. Our newest recruit, Harry Langridge, joining our successful permanent qualified division in 2020.  Tom Norton completes our team. Sports mad & looking forward to when he can ski down black runs again! Meanwhile, he continues to conquer the slopes of permanent qualified accountancy recruitment.
We'll have to wait till 19th November to celebrate International Men's Day, but it's great to acknowledge men and women every day throughout the year!
#Article by Mary Maguire
Managing Director
Astute | Accountancy & Finance | HR | Office Support
Suite One, Ground Floor West, Cardinal Square, 10 Nottingham Road, Derby, DE1 3QT
T: 01332 346100
M: 07717 412911
E:  mary.maguire@astuterecruitment.com
LI: https://www.linkedin.com/in/mary-maguire-astute-recruitment-ltd/