Inspiration from the front! What we need is self-belief. An inspirational article by Mary Maguire, MD.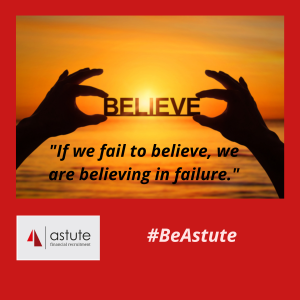 Whilst Sarah Stevenson and I set up in '09, clearly a very difficult time, we knew we were great at what we do, confident to carry this through with just Sarah's redundancy and ultimately we believed.
In ourselves and our ability to source talented accountants for local clients.
We believed in our relationships.
We believed in our loyal clients and believed in our trusted candidates.
Here we are again. Facing a seismic shift in global wealth. But hey, ho. Confidence favours the brave!
We have not made any of our talented family of recruitment consultants redundant.
We have not shut down operations.
We have adapted to the current circumstances, found new ways of working and retained our team spirit and strength.
We continue to work with amazing people and businesses who are also finding new ways of working. New ways to 'onboard' new staff.
We have said we will carry on. We believe in our staff, and our clients are working with us to carry on and recruit talented people for their teams even in the current crisis.
Yes, things are different.
Yes, things are difficult.
BUT, if we accept failure is an option, failure becomes a guarantee.
Now is the time for ingenuity, bravery and spirited belief by business owners leading from the front.
If we fail to believe, we are believing in failure.
#believe #belief #BePositive #business #Strength #recruitment #accountancy #accountancyrecruitment #derby #derbyshire #nottinghamshire #eastmidlands #motivationalmondays