Industry Game Changer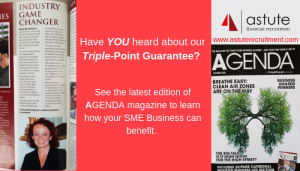 Astute Recruitment in Queen Street is re-inventing the way recruiters are seen with a unique 'Triple Point Guarantee', which offers clients £500 in cash should their vacancy not be filled in time.
The service is being offered to companies with a permanent role available which choose Astute as their sole recruiter for an agreed time period and is the first policy of its kind to be offered by a recruiter anywhere in the UK.
Mary Maguire, MD of Astute Recruitment said: "We really want to set ourselves apart from our competitors and demonstrate our commitment to offering value and high standards of service."
"We work across the East Midlands with a great number of SME's locally, so anything we can do to support our clients and make a real difference to their business, we will embrace and the Triple Point Guarantee is exactly that."
"As well as the £500 payment, we also offer free replacements and pro-rata fee rebates if a candidate leaves the role in the first eight weeks of placement."
"We pride ourselves on being able to place the right people in the right roles – this policy demonstrates how confident we are in this and gives clients peace of mind."
Astute has worked to secure more than 1500 jobs for local businesses and is continuing to go from strength to strength, hiring three new consultants in the last six months and launching a highly successful commercial division.