How great things can happen when business people get together – a growth mindset really matters for business owners and hiring managers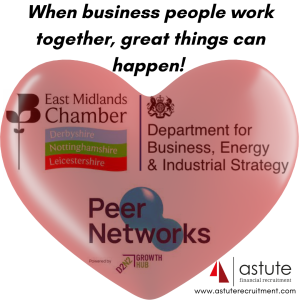 Following the end of the last Peer Networks business growth hub this year, our MD Mary Maguire wanted to say a huge thank you.
Thank you to the partnership and collaboration of the East Midlands Chamber of Commerce, the Department for Business, Energy & Industrial Strategy and D2N2.
Thanks to Neale Lewis for leading the cohort and huge thanks to everyone in our group.
Its great to share the success of business opportunities such as this, and to show how a growth mindset can really make a difference to business owners and Entrepreneurs.
Since January 2021, a small group of business owners have laughed together, supported each other and inspired one another. The sessions have enriched their understanding of day-to-day business issues and how to solve key problems. From recruitment to HR to business strategies, they have been able to offer understanding in their specialisms, suggest solutions and brainstorm new ideas for others to take away and implement.
As the last cohort of the year has taken place – we just wanted to share how valuable, enjoyable and insightful the sessions have been. Neale Lewis is a great anchor for the group – picking relevant business topics for discussion, teasing out, and developing trains of thought amongst the group to encourage new ideas and free-flowing conversation.
Our MD Mary said that she has taken away many, many ideas over the sessions and made some great friends too along the way!
Mary had this to say;
"Sessions like these are really important as a way to build confidence amongst the SME business community across the East Midlands and nationally. I hope that these continue to inspire and encourage business professionals, MDs and entrepreneurs to make the most of the fantastic support available to them and to enable them and their teams to flourish.
My thanks go to all of these brilliant people and their businesses. Its been great to get to know you all and I hope we can get together soon for those pre-Christmas drinks! 😊"
If you would like some additional support / advice for your business you can contact Neale himself www.nealelewis.com.
Watch video testimonials from other business owners say how they have benefited from Peer Learning, click on the link below: –
You can find out how you can book onto future Peer Network Sessions on the following link: – https://www.peernetworks.co.uk/
and of course seek support from the East Midlands Chamber, Peer Networks  and D2N2.
"Strong, healthy leadership advice and support will inspire business success"