How great leadership can inspire amazing results!
"Cometh the hour, cometh the man".

Volodymyr Oleksandrovych Zelenskyy, Ukraine's president has shown that someone with limited experience as a leader, can rise to horrendous challenges with immense dignity, bravery, intelligence, and honesty.

Infact, the horrific invasion of Ukraine has flagged a tale of two massively contrasting leadership styles, a David versus Goliath – not just in terms of Ukraine versus Russia, but Zelensky versus Putin.

In Zelensky there is a leader who has led his people, harnessed their passion and won the hearts and minds of his own people, and many millions, far, far away.


Then we have Vladimir Vladimirovich Putin. The truly brave Russian souls who demonstrated publicly in Moscow itself, risking their very lives in doing what is simply a democratic right to all of us in the West, show that Putin has not got the total will of his people behind him. Despite what he may say.

May I just say at this point, say that I know Russians who are equally appalled at Putin's actions.

This incursion, this wretched invasion of a proud sovereign, independent nation, is not applauded by all Russians. Its important not to criticise all Russians and believe that they all support Putin, because they don't. The bravery of the many hundreds of Russians to protest publicly and risk their livelihoods, jobs and very lives are a testament to that.

Putin's recorded warped, inconsistent rants on history, wild personal accusations of Zelensky, and in one breath asking Ukranians to 'go home, be with your families' and in the next, 'take up your arms, overthrow the corrupt Zelensky and his Government' are a total 180° polar opposite to the Ukrainian's quiet, calm, consistent appeals and speeches to camera for his people.

From being in a suit, to wearing military fatigues and telling his nation, 'no, I'm here and staying here', Zelensky has calmly, and consistently appealed that there is a better way.
In a situation that is rapidly evolving, the way that Zlensky's passion as his nation's leader, has been able to ignite such powerful and never before used sanctions from other leaders around the world is in turn inspiring and powerful to watch.
With nothing more than his passion and a phone, he has drummed up enthusiasm and action from the rest of Europe and beyond.

A great leader is not defined by their ability to wield great force.

Great leaders inspire great actions above and beyond those expected, from a team, a business, and vitally for the Ukraine, an entire nation.

Brilliant leaders are able to blow to life embers, then cradle and harness the flames of passion in their teams, to go above and beyond what is expected of them.

To reach deeper, harder, further than they thought they could ever aspire or possibly achieve.

And this is the key bit.


To try hard, and keep trying harder still, because they believe in their boss/ leader/ President.


Not because they are paid to.

Not because they are forced to.

Because they want to.

And that's the rub, right there.

'Great leaders are made great,
not through fear or oppression,
but through love.'


Many famous leaders
have achieved
great power,
but they were not truly great leaders.


Not truly loved.


And in the war for hearts and minds, that's where brave Zelensky has already won, and won hands down.






Now the trivia bit, and some light relief!

'Cometh the hour, cometh the man'. I thought this was from a Shakespeare play or other such writer, when I thought that quote summed up my thoughts on this blog.

Nope.

Turns out that no one person can truly be attributed as the owner of this great phrase. It sounded like a quote though, so I investigated.

Turns out that the phrase is credited to an England tail-end batsman, Cliff Gladwin in the 1948 England vs South Africa test series.

In the first test at Kingsmead, Durban, in South Africa, England needed eight runs off the last eight-ball over, with nos.9 and 10 at the crease.

With light fading, and an increasingly dry wicket that gave the bowlers lots of help, England got home after a 'leg-bye' was scored off the last ball of the game, when the ball struck the no.10, Cliff Gladwin, on the thigh and a single was scrambled.

The Derbyshire bowler is remembered mostly for this batting feat and his immortal words: –
"Coometh the hour, coometh the man."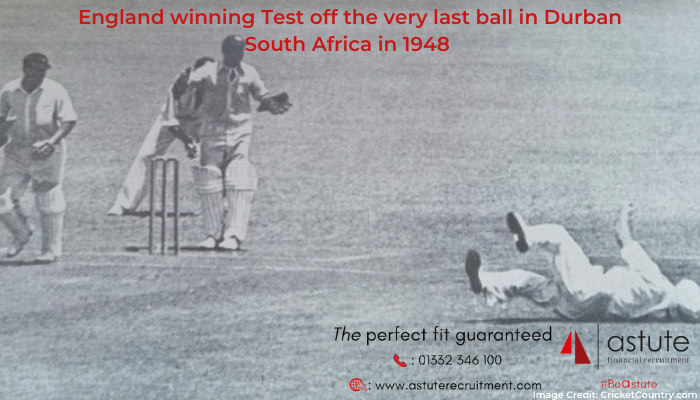 I'll take that as a former Londoner who now counts Derbyshire as her home. 🤣