Is the job paying the most, the best one to go for? Why PPE is the true currency when looking for staff or a new job.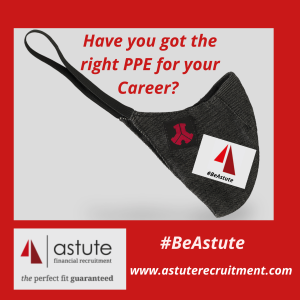 Is the job paying the most, the best one to go for? Why PPE is the true currency when looking for staff or a new job.
The current job market is so different to any other situation. In the last economic crisis back in 2008/2009, job boards were just starting to become 'a thing'.
People's individual brands were mainly about their cv, with LinkedIn and other social media just a useful addition for those in the know!
Now, for the first time, we have a fully digitised job market. Of companies vying for the best talent, recruitment agencies swamped with applications using anonymous algorithms to 'sift' candidates. Job seekers, desperate to make their experience shine above lots of others.
The result?
An often jaded customer experience by everyone from hiring managers to recruitment professionals and of course those looking for work.
Here at Astute, there is a new way forward. It doesn't involve anonymous emails and forgotten banks of candidates.
During the Lockdown, we heard first hand, the power of the spoken word. Talking directly to people. From CFOs to HR professionals. From credit control clerks to aspiring part qualified and experienced management professionals in accountancy and finance.
Was our team expecting to pick up jobs? No. But funnily enough, we did!
Our strategy, as always, was to simply keep in touch with as many candidates and business contacts as possible.
How?
By a simple phone call!
That personal interaction, and conversation, was not about Recruitment. It was often just chatting about how people felt, giving reassuring advice, help, and support.
There were laughs. There were tears. But every call was an opportunity to say we are here and we are here to listen and help.
So, back to my original question. The best paying job isn't the criteria to judge a potential new employer by or on which agency or advert to apply to.
No!
The best jobs should be judged on the company's social and interpersonal currency. Ask yourself, "Do you get a personal connection with that company?"
This is where good recruiters come in!
As brand ambassadors and knowledge experts, we can advise our customers on the hidden things you never see on a job description.
What's the culture like?
Does the company treat people fairly?
Will they be a really supportive employer?
What's the real reason for the role?
What's the real working hours expected in that business?
Equally, for employers, and hiring managers, we can steer them to the right person for their team. It could be someone more experienced than they thought they needed. It could be the overlooked up and coming person. Lacking experience but with that 'something special about them' who will be a star.
The trust, honesty, and relationships with all our people, our team, our customers, and the brands we represent, are about going back to the future.
Using the latest technology but never forgetting we are dealing with people.
Thats the true currency of recruitment, business and life.
Proper Personal Engagement.
PPE.
An article by Mary Maguire
Managing Director
Astute | Accountancy & Finance | HR | Office Support
Suite One, Ground Floor West, Cardinal Square, 10 Nottingham Road, Derby, DE1 3QT
T: 01332 346100
M: 07717 412911
E:  mary.maguire@astuterecruitment.com
LI:  https://uk.linkedin.com/pub/mary-maguire/18/73/553