Happy #NationalUnicornDay – in honour of all recruiters everywhere who find that magical one-of-a-kind candidate!
Happy #NationalUnicornDay – in honour of all finance recruiters who find that magical one-of-a-kind candidate!
Here at Astute, we have adopted our very own unicorn as our cuddly mascot! We felt it appropriate to celebrate these mythical creatures as we are always finding 'unicorns' for our clients! 😊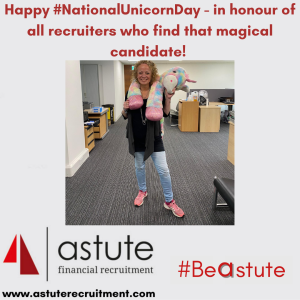 ABOUT NATIONAL UNICORN DAY
National Unicorn Day on April 9th each year celebrates the mythical horse-like creature with a single, pointed horn growing from the centre of its forehead.
Unicorns have been a popular mythical creature since Ancient Greek times when people believed they lived in exotic India. While they were once considered to be fierce, powerful animals, many now see them as a symbol of love, purity, enchantment, and magic. They also appear in many movies and cartoons as magical creatures. Both adults and children find a fascination with unicorns. They also continue to find their way into fantasy novels alongside other mythical creatures.
WHAT TO DO ON #NationalUnicornDay
There are several ways to celebrate this fun day.
Try these fun ideas with some younger fans of unicorns: –
Make some brightly coloured unicorn-shaped pancakes or cupcakes.  Decorate them with multi-coloured sprinkles or glitter.
Bake chocolate cookies in the shape of unicorns.
Watch a favorite movie including unicorns.
Draw a picture of a unicorn or write a story about one.
Read your favourite fantasy novel featuring unicorns.
Thanks to National Calendar who have also created a colouring page and a picture puzzle.
Can you spot the differences?
Use the key to see if you find them all!