Happy Chinese New Year! 2021 is the Year of the Ox, but what does this Chinese sign mean? Here's our fun facts about the Chinese New Year.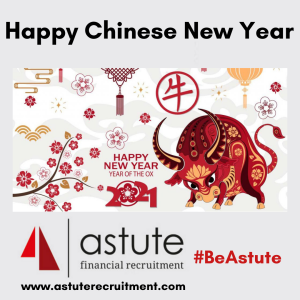 Happy Chinese New Year! 2021 is the Year of the Ox, but what does this Chinese sign mean? Here's our fun guide about the Chinese New Year.
First, superstitions!
There are a host of superstitions that will apparently decide how the next year will play out for each of us. To avoid bad luck the rest of the year, here are some no-nos for Chinese New Year's Day.
Washing clothes, using scissors, and sweeping floors are some of the easier bad omens to sidestep. But parents might find it harder to dodge crying kids 🤣🤣, and – on the more extreme end of the scale – women might find it difficult to avoid leaving the house all day! 😱 (Best not attend any interviews today then!)
According to Chinese superstition, doing any of these on Feb 12th – the day Chinese New Year falls in 2021 – will lead to bad luck for the entire coming year. But it isn't all doom and gloom: 2021 is the Year of the Ox, an animal that  symbolises strength and determination.
Here is everything you need to know about the annual celebration, and why the Year of the Ox will be luckier for some than others.
When is Chinese New Year 2021?
The annual celebration begins on the new moon that comes between Jan 21 and Feb 20. The Chinese year will start on Feb 12th 2021 and end on Feb 11th 2022, when the Year of the Tiger begins.
The new year, also known in China as the Spring Festival, is marked by the lunisolar Chinese calendar; meaning the date changes from year to year.
Festivities usually start the day before the New Year, and continue until the Lantern Festival, falling on the 15th day of the new year.
The Chinese zodiac is divided into 12 blocks (or houses) just like the West's equivalent 12 signs of the zodiac, but with the major difference that each 'house' has a time-length of one year instead of one month.
Each Chinese New Year is characterised by one of 12 animals that appear in the Chinese zodiac – 2020 was the Year of the Rat.
Which Chinese zodiac sign are you? 
Your sign is derived from the year you were born in the Chinese lunar calendar. Have a look below and see which animal you are!
Rat: 2020, 2008, 1996, 1984, 1972
Ox: 2021, 2009, 1997, 1985, 1973
Tiger: 2010, 1998, 1986, 1974, 1962
Rabbit: 2011, 1999, 1987, 1975, 1963
Dragon: 2012, 2000, 1988, 1976, 1964
Snake: 2013, 2001, 1989, 1977, 1965
Horse: 2014, 2002, 1990, 1978, 1966
Sheep: 2015, 2003, 1991, 1979, 1967
Monkey: 2016, 2004, 1992, 1980, 1968
Rooster: 2017, 2005, 1993, 1981, 1969
Dog: 2018, 2006, 1994, 1982, 1970
Pig: 2019, 2007, 1995, 1983, 1971
The years above are a rough guide; bear in mind that if you were born in January or February it may be slightly different as the new year moves between January 21st and February 20th each year.
The years allocated to each animal are in a very specific order. According to an ancient Chinese folk story, the Jade Emperor had called 13 animals to a meeting and announced that the years on the calendar would be named according to the order they arrived in. This led to 'The Great Race'.
So legend goes, the rat travelled on the back of the ox, leaping from it's back to grab first place. The pig stopped for a snack and a nap and arrived last; a cat was also in the race but drowned during the competition, leading to there being only 12 animals in the zodiac.
Who should be on their guard this year?
According to Chinese astrology, the year of your birth sign is believed to be one of the most unlucky years of your life. It is thought that people in their zodiac year offend Tai Sui, the God of Age, and incur his curse.
Famous people who should be careful this year include Heidi Klum and Noel Fielding (both born in 1973), Lewis Hamilton (1985), Kylie Jenner (1997), and Marcus Rashford (1997). Barack Obama (1961) was also born in the Year of the Ox, plus George Clooney (1961) and Jeremy Corbyn (1949).
Lucky Signs for the Ox
Lucky numbers for people born in the Year of the Ox are one and four, and their lucky colours are white, green and yellow. Their lucky flowers are tulips and peach blossoms and their lucky directions are north and south.
The Personality of the Ox
People born in the Year of the Ox are thought to be diligent and hard-working, honest, strong, and dependable, with their ability to keep calm making them great leaders.
While Oxen are kind, they find it difficult to understand persuasion and always detest being the centre of attention, resulting in their talent being hidden. Their hard work and patience, however, helps them earn praise and successfully meet their goals.
Strengths: Patient, persistent and cautious
Weaknesses: Stubborn, less-talkative and obstructive
Why do the Chinese value the Ox?
Oxen are highly prized, celebrated animals in Chinese culture because of their roles in agriculture and positive characteristics, such as being honest and reliable. In terms of the 'Yin and Yang' theory, they are the yang and also represent the hours one to three in the morning and the Earthly Branch Chou.
2021 is specifically the Year of the Metal Ox. Chinese astrology experts say it's a good year for giving birth as metal symbolises stability and longevity. Those born in the Year of the Metal Ox shall have plenty of great things in their lives.
What does your Chinese zodiac sign mean? 
In Chinese astrology, the 12 animal zodiac signs each have their own characteristics. For some fun, we've popped these below! Have a read and see if you agree!
Rat🐀: Intelligence, adaptability, quick-wit, charm, artistry, gregariousness.
Ox🐂: Loyalty, reliability, thoroughness, strength, reasonability, steadiness, determination.
Tiger🐯: Enthusiasm, courage, ambition, leadership, confidence, charisma.
Rabbit🐰: Trustworthiness, empathy, modesty, diplomacy, sincerity, sociability.
Dragon🐲: Luckiness, flexibility, eccentricity, imagination, artistry, spirituality, charisma.
Snake🐍: Philosophical, organised, intelligent, intuitive, elegant, attentive, decisive.
Horse🐴: Adaptable, loyal, courageous, ambitious, intelligent,  adventurous, strong.
Sheep🐑: Tasteful, crafty, warm, elegant, charming, intuitive, sensitive, calm.
Monkey🐒: Quick-witted, charming, lucky, adaptable, bright, versatile, lively, smart.
Rooster🐓: Honest, energetic, intelligent, flamboyant, flexible, diverse, confident.
Dog🐶: Loyal, sociable, courageous, diligent, steady, lively, adaptable, smart.
Pig🐷: Honorable, philanthropic, determined, optimistic, sincere, sociable.
Popular Chinese New Year Greetings 
If you want to get into the swing of the festivities but don't have the foggiest how to decipher Mandarin characters, here's our handy guide to the most essential phrases!
新年快乐 / 新年快樂 (xīn nián kuài lè) "Happy New Year!"
In Mandarin: /sshin-nyen kweye-luh/
In Cantonese:  /san nin fai lok/
新年好 / 新年好 (Xīn nián hǎo) "New Year goodness!"
In Mandarin: /sshin-nyen haoww/
In Cantonese: /sen-nin haow/
恭喜发财 / 恭喜發財 (Gōngxǐ fācái) "Happiness and prosperity!"
In Mandarin: /gong-sshee faa-tseye/
In Cantonese: Kunghei fatchoy /gong-hey faa-chwhy/
步步高升 / 步步高陞 (Bùbù gāoshēng)  "A steady rise to high places!" / "on the up and up"
In Mandarin: /boo-boo gaoww-shnng /
In Cantonese: /boh-boh goh-sshin /
So, have a Happy Chinese New Year from all of us at Astute Recruitment Ltd!
Mary Maguire
Managing Director
Astute | Accountancy & Finance | HR | Office Support
Suite One, Ground Floor West, Cardinal Square, 10 Nottingham Road, Derby, DE1 3QT
T: 01332 346100
E:  mary.maguire@astuterecruitment.com
LI:  https://uk.linkedin.com/pub/mary-maguire/18/73/553