Happy 9th Birthday Astute Recruitment!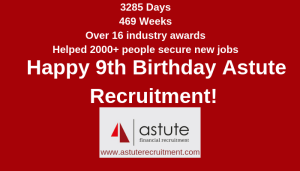 We can't believe that 9 years have flown by so quickly.
From redundancy back in 2009 in the midst of one of the worst recessions ever known, to set up, grow and become the 'go to' accountancy and office recruitment specialist across the East Midlands is amazing.
The statistics speak for themselves……..
Thank you to everyone who has supported us and here's to another 9 successful years!
3285 Days | 469 Weeks | Over 16 Industry Awards | Helping 2,000+ People Find Jobs & Secure Work | 
Happy Birthday Astute Recruitment!