Great news, over 300 Business, Finance & HR professionals have booked onto our latest webinar with John McCarthy, OBE!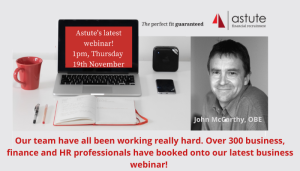 Last year, almost to the day, we were delighted to host another of our business breakfast's with Mr John McCarthy as our guest speaker. We hosted the event at the fabulous grounds of Derbyshire County Cricket in Derby and welcomed over 75 people from local East Midlands businesses.
John spoke passionately about his experiences in the Middle East whilst held hostage. The feedback from our guests was amazing and everyone commented what an inspirational morning it was.
Our MD, Mary Maguire, who organised the event, went on to keep in touch with John through the initial Lockdown in March, and the months that followed. His public engagements as a speaker were postponed due to the Coronavirus restrictions and Lockdown so he was only too glad to work with us again as and when, and put the event 'online'. He has since conducted several online events for large Government Departments and major corporates.
Scroll forwards, a date was set!
Our team have all been working tirelessly to extend personal invitations to our local business communities.
We want to highlight & support local businesses and retailers in these difficult times for the Highstreet.
So we reached out to our friends at BEAR and are delighted to announce that they will be providing all our attendees with a free cup of coffee and cake AND 20% off all their on-line products before Christmas!
Hopefully, we will all be able to enjoy a coffee and tasty treats at BEAR again soon!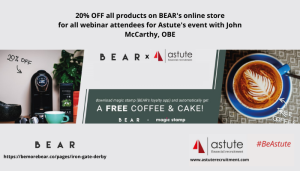 Our reminder emails will have the discount codes for our attendees to use!
So, we are all looking forward to this Thursday afternoon.  We have several businesses that have booked their whole Finance and HR departments to enjoy our webinar as a team event, which is great!
If you are interested in attending this online event, please contact Mary Maguire on her email mary.maguire@astuterecruitment.com and she will be delighted to advise of any extra ticket availability.