Good news for business! A one-way roadmap out of lockdown announced by the Government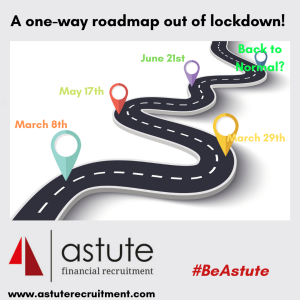 A Roadmap out of lockdown!
A one-way strategy of positive milestones from the Government was announced by the Prime Minister, Boris Johnson this afternoon.
The basic points are set out below. It is important to remember that these will be conditional on the continued success of the vaccine rollout and maintaining declining figures of hospitalisations and infections.
Nonetheless, some very welcome news!
Summary of key points: – 
Boris Johnson sets out his four-step plan to release England from lockdown
Step one, on 8 March, will see schools reopening and two people allowed to meet outdoors for a chat
From 29 March, outdoor gatherings of either six people or two households will be allowed
Outdoor sports, including football, golf, and tennis, will be allowed to resume from 29 March as well
Step two would see shops, hairdressers and gyms reopen from 12 April in England
Also from 12 April, outdoor hospitality will resume, as well as zoos and theme parks
Step three would start on 17 May with most social contact rules lifted, as well as limited mixing indoors
The prime minister hopes that step four, from 21 June, would see the end of all legal limits on social contact
The UK PM will also hold a televised press conference at 19:00 GMT
Scotland, Wales, and NI will set out their own approaches
Covid vaccines have a significant impact on the risk of serious illness Public Health analysis shows
In the fourth week after the first dose, hospitalisations were reduced by 85% and 94% for the Pfizer and AstraZeneca jabs
Let's hope that the 8th March Budget will also provide some fiscal good news and continued support for businesses, employers, and staff.
An article by
Mary Maguire
Managing Director
Astute | Accountancy & Finance | HR | Office Support

Suite One, Ground Floor West, Cardinal Square, 10 Nottingham Road, Derby, DE1 3QT
T: 01332 346100
M: 07717 412911
E:  mary.maguire@astuterecruitment.com
LI:  https://uk.linkedin.com/pub/mary-maguire/18/73/553