Feeling proud of our MD Sarah Stevenson shortlisted for TheBusinessDesk.com Midlands Leadership Awards 2018!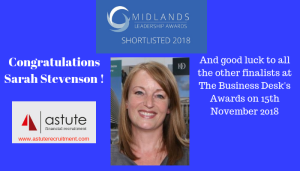 As featured in TheBusinessDesk.com, their Midlands Leadership Awards have been created to celebrate the people and organisations across the entire region who are role models for their teams and who have continuously raised the bar for their competitors.
Those shortlisted have showcased the very best qualities of modern leadership – of inspiration, collaboration and empowerment. The winners will be announced at an exclusive awards lunch on Thursday 15th November 2018. The day will be a celebration of the transformational impact great business leaders are having in our Midlands Region across Finance, Professional Services, Accountancy, Manufacturing, Service and all other industry sectors.
The Leadership awards offer a great opportunity to recognise and shine a light on the achievements and successes of businesses in the region. Sarah's inclusion as a finalist for these prestigious awards follows on her successful recognition as Entrepreneur Of The Year, awarded by the Derbyshire Times, Small SME Director Of The Year East Midlands, awarded by The Institute of Directors and Finalist of The East Midlands Chamber's Entrepreneur of the Year. The Midlands Leadership Awards also serve to recognise the fantastic work Sarah's team here at Astute Recruitment Ltd have achieved in becoming the go-to accountancy and office recruitment specialist in the East Midlands. Our unique Triple-Point Guarantee and other innovations will reach a wider audience and we hope inspire other innovations in excellence across the recruitment sector.
Fingers crossed for Sarah and all the other Finalists below!
Leader of the year – This person will be selected from the other award winners and will be the person or organisation that embodies outstanding leadership and is an exemplar for the whole Midlands Region.
The finalists for the 2018 Leadership awards are: –
Professional services  
David Richardson, Lloyds Banking Group
Nick Green, Squire Patton Boggs
Sarah Perry, Wright Hassall
Sarah Stevenson, Astute Recruitment
Steve Allen, Mills & Reeve
Best leadership programme
Birmingham LGBT
Meridian / Common Purpose
Plink Fizz
Streetwise MBA / Common Purpose
Empowering Potential                           
Anthony Burns, Paycare
Anthony Ratchford, Intec Microsystems
Lee Southen, Grayling
Sallie-Ann Allen, Enploy
Simon McAlpine, Infinity IT Solutions
Diversity and inclusion leader
Carmen Watson, Pertemps
Claire Bell, West Midlands Police
Hilary Smyth-Allen, BPS Birmingham
Prof Kiran Trehan, University of Birmingham
Yetunde Dania, Trowers & Hamlins
Public and third sector
Mike Hopkins, South and City College Birmingham
Paul Kalinauckas, BCRS Business Loans Limited
Tom Clarke-Forrest, Sport 4 Life UK
Dr Yeow Poon, Chinese Community Centre
Transformational  leader
Greg Reed, HomeServe Membership
Matt Jones, Oxbridge Home Learning
Mike Hopkins, South and City College Birmingham
Pauline Biddle, Deloitte
Phil Mead, NEC Group Arenas
Company leader (up to 100 employees)
Jonathan Evans, Discovery
Keir Edmonds, MCS
Kevin Rogers, Paycare
Mike Brooman, Vanti
Scott Parsons, Forsyth Barnes
Company leader (100+ employees)
Craig Dickson, DAC Beachcroft
Greg Reed, HomeServe Membership
James Rigby, SCC
Shahid Sheikh OBE, Clifton Packaging Group