Feedback is crucial after interviews. Heres why!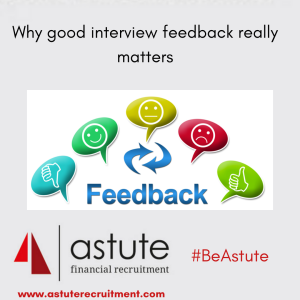 Why good interview feedback really matters
Our team been working exclusively with a long-standing client to recruit an Assistant Management Accountant. Ideally someone with bright enquiring mind, keen to learn with an accounting and finance degree.  Some experience in a finance role would be ideal. After shortlisting down from 18 candidates to the best five, the CVs went across and our client interviewed all five this week.
The good news is that three have been selected to undertake some online testing and have a second interview in a few days.
The bad news is that two candidates are not being progressed.
The client and Astute were able to discuss detailed, constructive feedback for each candidate including some tips for the future.
We fed back to one of the candidates not being progressed and wanted to share what the feedback was including some constructive tips for them in answering unplanned questions and focussing their answers.
"…while its bad news I've not got a second interview – it's great to get positive rounded feedback after the first interview. I can use this experience and feedback to help me prepare and perform better in future interviews, and hopefully get a second interview next time! Thanks for letting me know and taking the time to ring me."
He has been impressed with the process at Astute Recruitment Ltd, and thanked us for taking the time to call him and pass on the feedback.
If someone has taken the time to attend an interview – they deserve at the very least to get some constructive post- interview feedback. That feedback may just help them secure a second interview and a job offer next time.
"It's not just learning how to prepare for an interview that counts.
It's also learning how to perform in an interview. That takes time, practice, and crucially, feedback!"
This is why our team at Astute Recruitment encourages a collaborative relationship with our clients throughout the recruitment process. Good interview feedback from the finance manager/ line manager/ HR professional recruiting, really helps our team inform our candidates on how they can improve their performance on an interview.
From how to answer a question to coping with nerves, unless a person has interview practice and good feedback from the recruitment consultant and/ or client, it is very hard for them to learn how they can come across better in the actual interview itself.
For another useful post on more interview tips and advice, you can see another of our blogs on our website, using the following link:    https://www.astuterecruitment.com/6-interview-questions-and-answers-to-help-you-nail-the-perfect-job-in-the-pandemic/
If you would like any more advice or help around interviews, arranging interviews remotely – let us know.
An article by Mary Maguire
MD Astute Recruitment Ltd
Email: mary.maguire@astuterecruitment.com
LinkedIn: https://uk.linkedin.com/pub/mary-maguire/18/73/553