Fantastic Greek Evening for our Summer Social Event
We had a great evening at Zorba the Greek for our Summer Social event earlier this month.
It was an incredible turn out and great chance to catch up with our friends from local businesses.
The food and drink were excellent and the relaxed social setting made for a wonderful evening and the opportunity to enjoy a face to face social event 🥂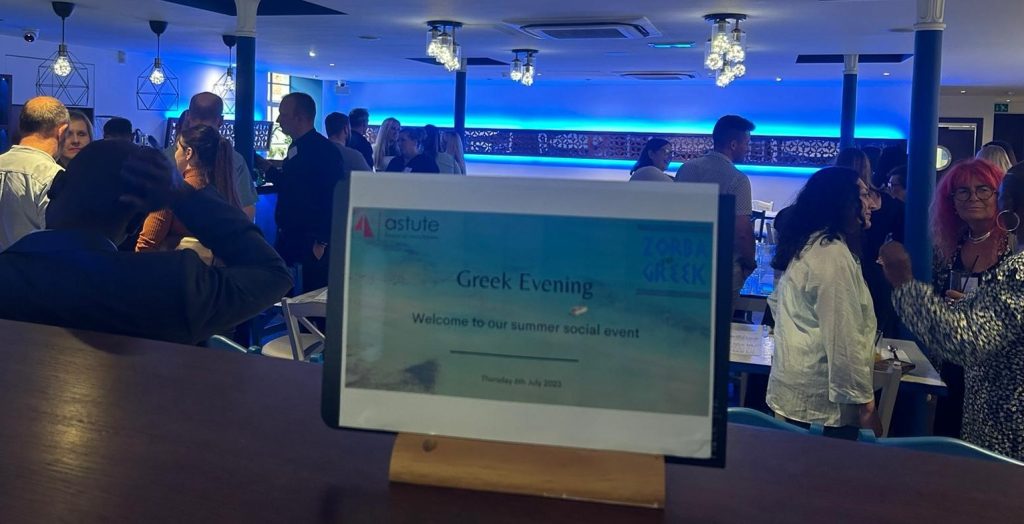 Zorba the Greek proved to be the perfect setting! the service was excellent and the staff so friendly and helpful, and we would like to thank each and every one of them.
Also a huge thanks to our wonderful team at Astute and of course all of our fantastic guests! 👏
We've already had some amazing feedback –
"Thank you for a lovely night, I had a really great time, the food was amazing."
"Thanks for having us. It was a good event and apologises I couldn't stay any longer."
"It was good to meet people and the food was great."
"Great to mingle and meet up with an ex-colleague!! Also enjoyed meeting the Astute team face to face and chatting with them."
"Nigel & I had a great night last night, so a big 'Thank You' for inviting us."
"Excellent food. We shall definitely return."
"The evening was fabulous and I would love to be part of another event like this. This event offered the personal touch, was well organised and my colleague had a great time too!"