Due to achieving our goal ahead of time, our #miles4meals charity challenge goes international!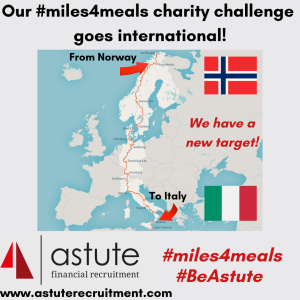 Following the remarkable support from the local business communities in the East Midlands, our band of candidates, clients and colleagues have successfully completed a round trip from John O'Groats to Land's End and back again in just a few weeks!
We still have a month of our challenge left and are keen to raise as much money as possible for Derby City Mission to put together as many food parcels as possible. So, we have decided to be bold and stretch our original journey to travel the beautiful countryside from Nordkapp in Norway down to Scapoli in Italy! A total of some 4,960 miles to cover in 4 weeks.
Along the way, we will pass through some beautiful places and look forward to sharing our virtual journey with you.
For now, HUGE thanks to everyone who has been part of our round trip from John O'Groats to Land's End, and back again!
We look forward to posting our continued progress through Europe.
If you or your team would like to join us on our virtual journey, all you have to do is email either Mary Maguire or Tom Norton at Astute and they will explain how you can help.
Alternatively, if you would like to make a donation, visit our dedicated fundraising page on Derby City Mission's website by clicking on this link https://www.derbycitymission.org.uk/donate/miles4meals/10/credit-card
So, will you #walkwithus on our extended journey through Europe and help our #miles4meals raise even more money for a fantastic charity?  Help your team's mental and physical health at the same time!
To discover why we are doing this and the benefits of Mental AND physical health, check out our article below: –
More information about our route: –
We have chosen to follow the E1 European long-distance path, or just E1 path. It's one of the European long-distance paths designated by the European Ramblers' Association. With a total length of some 4,960 miles (7,980 km), begining in Norway at Nordkapp, crossing the Kattegat between Sweden and Denmark by ferry.
Then the path winds through Denmark, Germany, and Switzerland to finish at Scapoli, Italy. (The EI path was extended southwards to Sicily, in Italy in 2018, but we'll be ecstatic to reach Scapoli – the original finish line.
Specific E1 waymarks are only seen in some locations such as at border crossings or at intersections with other paths, instead, the signs and markings of the local routes which make up the E1 are used.