Do your furloughed staff know you still care?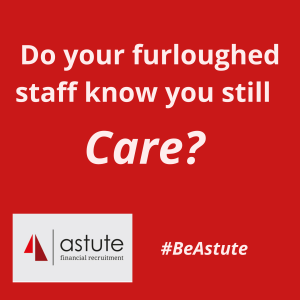 Furlough. With over 8 million workers furloughed, we wanted to ask employers, "Do your furloughed staff know you still care about them?"
When did you last talk openly with your furloughed employees?
Just a week ago was a Bank Holiday. The next one isn't until the end of August. Between now and then, millions of workers will have been on furlough for approaching 5 months.
While employers and those still employed face ever-increasing workloads covering their businesses, how are the furloughed feeling?
Mental health week ended just a few weeks ago, but already the news is full of new, pressing economic shocks and doom.
Now, imagine you are a single parent, a breadwinner in your home? A recent graduate. A new homeowner with mortgage bills at the end of every month.
Imagine how they might be feeling on furlough.
Whilst furloughed, staff in the UK cannot contribute to their company's business financial success, there is nothing to say employers have to neglect these armies of suspended talent whose passion and commitment to start working for your company again remains undimmed.
So, stay connected. Take the time to speak to your furloughed team regularly. Reassure them, be present and mindful of questions they may have. Be personal. Be open to any insecurities they may have. Encourage them to refresh their skills through online courses. Above all, be honest.
The businesses that survive the current situation will be the ones who can trade out of the furlough. With most of their staff refocussed, positive, upskilled, and confident in the knowledge their employer, boss and company are, and have been, 100% behind them.
Those companies will have the essential ingredients for business success in a turbulent economy. Loyalty. Passion, drive, and commitment. Happy, engaged workers are far more productive than staff who feel isolated, forgotten, or neglected.
If you can get that collective belief in your team, they will genuinely want to help the company and help you, return to profit. A motivated team is a successful team!
So, show your furloughed workers you really care about them. They will be worth their weight in gold when the market picks up and you need to retain your trained, talented people.
If you are a furloughed employee who is feeling neglected and insecure, please contact our team at Astute Recruitment Ltd who will be delighted to talk through your concerns and help you.
Our MD – Mary Maguire, is happy to take CVs and distribute them to our team. Simply email your CV with a mobile number and any message to Mary.Maguire@AstuteRecruitment.Com and she will be glad to help, advise, and support your career queries.