How can you manage a successful relationship with your recruitment consultant? Our 'astute' tips!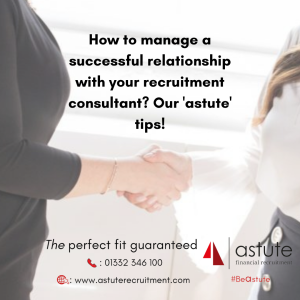 How can you manage a successful relationship with your recruitment consultant? Our 'astute' tips!
Even though the jobs market is at it's busiest for years, and job boards abound with opportunities, it can be hard to actually speak to a recruitment consultant. Recruiters are busy people at the moment! So we thought we would explore this and ask, "How can you manage a successful relationship with your recruitment consultant?"
How do you break through to reach a consultant's attention? Here at Astute this is such a common problem experienced by candidates before they come to us, that we wanted to share some key advice. We take every application seriously. Personal interaction with all our candidates is key to how we work.
However, in the recruitment industry if you are looking for a job one of the hardest things is actually being able to speak to a recruitment consultant let alone meet one (online or in person!). In today's current skills shortage, with many recruiters pressured like never before to fill more live jobs than pre-pandemic, agreeing proper bespoke lines of communication for your specific situation is key. This avoids telephone tag or WhatsApps being ignored. It stops either the recruiter wrongly feeling that the candidate is uninterested in the job opportunity they are trying to reach them about and it stops the candidate from feeling frustrated at the lack of communication. 
WhatsApp, Slack, email, and texts are all well and good, but to really build a proper recruiter/ candidate relationship – there is no substitute for the spontaneity of a real conversation. We would argue that the art of real conversations is a key attribute in the recruitment process, particularly as many finance professionals continue to have an agile office/ home working policy.
Its all about consistent, honest and open conversation and communication.
IMPORTANTLY: BE CHOOSY!
CHOOSE YOUR RECRUITMENT CONSULTANT/ RECRUITMENT AGENCY CAREFULLY! 
Recruitment consultants all offer varied services for candidates; they can vary in the way they interact with their candidates, the type of clients they focus on, the geographies they cover and of course the specialisms they focus on. Look at the website, have they any accreditations? Have they won any business awards? What are their testimonials like from candidates and clients they have worked with? How string are their reviews on Google? Check them out on LinkedIn.
A really professional recruitment consultancy will have positive testimonials, great reviews on Google, and super testimonials.
We do! A bit biased but we like to shout about what we do well.
Check out our 5* reviews from happy candidates and clients HERE.
To look at some of our candidate testimonials HERE
See what our client's have to say about us HERE.
client range and career markets. Make sure you pick an agency that is compatible with you.
Remember it's a partnership- both you and the consultant need to work together pro actively in order to reach the ultimate goal of securing you a new job. The measure of a good relationship is remembrance and re-occurrence over time; At Signet Resources we have had candidates contact us who we helped over a decade ago!
Here are a few words from our consultants….
'It's all about the partnership- It's a two way thing'
'The best candidate relationships I have developed start with Honesty right from the beginning with expectancies set from both sides.'
'Keep open and direct lines of communication in order to develop honest and collaborative partnerships with each individual candidate.'
Here we have listed some key tips to help you develop and manage a really good relationship with your recruitment consultant.
Be CLEAR:-
About the specific job you want.
The areas you want to work in and contact relevant sector recruitment agencies accordingly.
Is career progression important to you? Tell the consultant!
What are the most important things you are looking for in the next job?
What are the best channels for quick communication with you throughout the recruitment process (texts/ emails/ WhatsApp)?
What minimum notice must you give?
Your availability for interview.
What areas do you need help with? (Interviews? Offer Management? CVs?).
How flexible can you be for meeting up/ online chat/ calls?
When is the best time to contact you about job opportunities?
Agreeing the above, will confer to the recruitment consultant that you are seriously looking for a new position and that you are ready to be fully active on the job market.
If you can show you are serious about looking for a job the recruitment consultant will take YOUR application seriously.
A consultant needs to know what you want. If you need advice/ help support be clear on this.
Remember recruitment consultants WANT to find you a job but they are not mind readers.
Be REALISTIC:-
Salary expectations:- If you are a part qualified accountant you are not going to command as much salary as a fully qualified accountant. Yes – salaries are creeping up but be realistic!
Have a reasonable timeline to secure a new job.
Time Management: Interviews and preparation for interviews take time. Make sure you have built in time for the next few weeks to attend interviews, take calls and research companies pre-interview. If you are about to enter the busiest point of the year work wise, (year end anyone?) then now is not the time to also squeeze interviews in. The quality of interview you give could be compromised. Instead allocate a month when you know attending interviews/ do an online MS Teams or Zoom recruitment call will be easier for you!
Hours:- Can you do overtime on a regular basis if that's key? Or do you need to be home by 5pm/ 6pm for dependants etc. Be upfront with the consultant on this and they can work with you to flag the most relevant opportunities with the right mix of flexible benefits.
Be RELIABLE:-
Keep in touch/ Regular Communication:- Return all calls/ messages /emails promptly.
Follow instructions!
Be punctual for interviews/ agreed meetings;
Provide feedback as agreed;
If you can be CLEAR, REALISTIC, and RELIABLE, congratulations! You will be a sought after candidate to any recruitment consultant and you can look forward to securing a new role soon!
I would love to hear your views on this as it is consistently one of the top 3 issues senior and junior accountants have raised whilst looking for new job. If you have enjoyed this post please click here to view other posts on our website.