Do you have 'FORTO' – fear of returning to the office?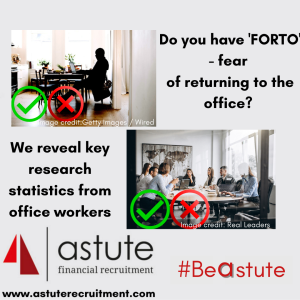 Do you have 'FORTO' – fear of returning to the office?
Apparently, many of us do.
A survey of 2000 UK office workers commissioned by the Institute of Workplace and Facilities Management (IWFM) in March this year revealed 31% felt their employer was pressuring them to return leading to feelings of anxiety and stress.
IWFM's 'Returning to work' research provides key insights into the thoughts, experiences, attitudes and concerns of the UK's office workers as employers seek to establish new ways of working and wider adoption of hybrid working post-COVID-19.
Key takeaways from IWFM's
'Returning to the workplace' research: –
The majority of UK employees expect a move to hybrid working
The vast majority of employees will expect a level of 'hybrid' working in the future – with nearly half (44%) of the workforce planning to work from the office for 3 days or fewer a week.
63% of employees now believe the office to be unnecessary – a rise of a fifth since the first lockdown (51%).
The demand for hybrid working is particularly strong for younger staff, with two-thirds (66%) of 18-24-year-olds admitting that not being offered flexible work patterns would cause them to look for a new job.
More than a third (38%) of this demographic felt their employer is pressuring them to return to the office – risking losing new talent.
As Chris Moriarty, Director of Insight at the Institute of Workplace and Facilities Management comments: 'More than a year on, we continue to see employers striving to strike the right balance between remote and office working. The benefits of the office have not been forgotten, yet we continue to become accustomed and comfortable with our home working routines.
'The truth is home versus office working should not be viewed as a binary choice between focus and connection. A true commitment to 'hybrid working' will give employees and employers flexibility to work in a way that is best suited to them – allowing them to reap the productivity and social benefits of both home and office working environments, how and when it best suits their needs. Employers should now make every effort to provide staff with genuine choice to perform their role wherever they feel their performance would be best supported – adapting the office space, incentives and policies to reflect the changing nature of the workspace environment.'
Over three-quarters (79%) of 18-24-year-olds believe that they will be equally as productive or more productive working from home.
This demographic is also working the most unpaid overtime from home – on average 11.6 extra hours a week – and has invested on average nearly £300 in creating a suitable working environment at home.
From speaking to all levels of accountancy and finance professionals our team has experienced most finance workers say that COVID has illustrated that most of their role can be effectively performed working from home. Finance Directors, CFOs, and Heads of Finance have said time and again that thanks to the implementation of additional technology and 'smart working' practices, their view is hybrid working – a blend of wfh and in the office – is here to stay.
Our view is that employers need to be flexible according to the sector of work employees are engaged in. Certain sectors – Sales, Creative/ Media, and others – need the face to face collaboration to bounce ideas off each other. Other sectors are able to be totally independent of the office environment, but for training and mental health reasons, a flexible approach is key.
Not so much cause for fear of returning to the office, more an opportunity for increased staff engagement and for managers to implement a great blend of flexibility that addresses individual's needs and allow for continued business success.