Derby Recruiter Partners With Round-The-World Cyclist to Help Local Businesses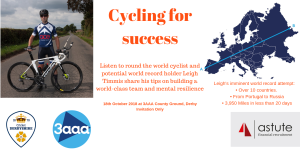 DERBY-based business Astute Recruitment has teamed up with round-the-world cyclist and new Guinness World Record hopeful, Leigh Timmis to share tips on how East Midlands-based businesses can deliver a world class performance.
The 'Cycling for Success' business breakfast event, which will take place on 18 October at the iconic 3AAA County Cricket ground in Derby, not only focuses on building a world class team, but will also put a spotlight on Mental Health and Mental Resilience.
Local professionals will hear tips and anecdotes from Leigh, touching on how he created a world-class performance despite a number of challenges and set backs along the way. They will also learn how crucial mental health is in achieving goals and overcoming pitfalls, Leigh will also discuss how important it is to have the right team around you – a key issue many SMEs face as they grow.
Derby-based world record hopeful, Leigh Timmis said: "This will be my first engagement after my world record attempt and I'm hoping to be able to speak about the world record I will hold by that point.
"It's fantastic to be working with Astute to help local businesses create a world class performance whether that's locally or internationally. I'm also excited to be able to raise awareness for my charity, MQ: Transforming Mental Health, working to share the importance of mental health in creating personal and professional success."
Having struggled with mental health issues in the past, the topic is something that's close to local adventurer, Leigh Timmis' heart. After quitting his job in 2010, Leigh cycled around the world for over seven years.
Leigh's latest adventure saw him fly to Carbo da Roca in Portugal on the 10 September to attempt to break the Guinness World Record for cycling across Europe in the fastest time. Leigh will be speaking at the event less than a month after his world record attempt which he hoped to complete in just 20 days, four less than the current world record. In the event Leigh smashed not only the World Record but also his own goal of 20 days – completing the marathon cycle in just 16 days!
Managing director of Astute Recruitment Ltd, Mary Maguire, said: "It's a really great honour to be able to partner with Leigh for this event, he's such an inspirational person and a great business speaker.
"The aim of the breakfast session is for delegates to leave in a positive, can do frame of mind, feeling confident that they can use some of Leigh's tips to bolster team spirit, harness potential and exceed expectations. Whether these are business goals, career goals or personal goals."
To sign up for the event please visit: https://www.astuterecruitment.com/leigh-timmis-round-the-world-cyclist-presenting-tips-anecdotes-for-success-at-one-off-event-at-derbys-iconic-3aaa-county-ground-on-18th-october-2018/
Astute has worked to secure more than 1500 jobs for local businesses and is continuing to go from strength to strength, hiring three new consultants in the last six months and launching a highly successful commercial division.