Congratulations to Richard Bowe on being our Employee of the Month!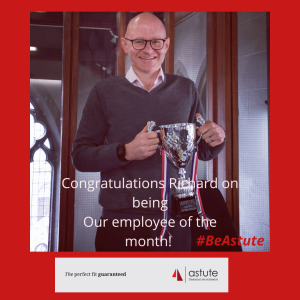 With a successful career in recruitment spanning over 20 years, it has been great to welcome Richard into Astute's team just a few, short months ago. In that time, his warm, professional manner and Northern sense of humour have endeared him to all of our team but also to many a candidate and client.
The whole team and our owners, Sarah Stevenson and Mary Maguire were delighted to announce Richard as our Employee of the Month.
His natural ability to build relationships with employers and candidates across the East Midlands areas including Derbyshire, Nottinghamshire, Leicestershire, and Staffordshire, is second to none.