Celebrating success at EMC's 2017 Derbyshire business awards including some great videos of the winners!!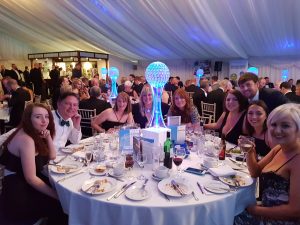 EMC's 2017 Derbyshire Business awards were a huge success!  We brought our team down for the awards dinner and had a great time!
Our very own Sarah Stevenson, MD, did not win but we are all really proud of her for making it to the final 5 in this tough category. We managed to capture a video snippet of her being announced as one of the finalists which you can watch HERE.
Everyone was delighted for Mo Suleyman of Derby Museums to receive the award for Entrepreneur of the Year. You can watch Mo receiving his award on a video we took by clicking HERE. His work for Derby Museums has been tireless and this accolade is well deserved.
Ashley Sowerby of Chevin Fleet Management was delighted with both of his company's awards on the night. Firstly for Excellence in International Trade which was sponsored by Greenbank. Runners up included Global Brands and Picsolve International. Chevin's second award was for Business of the Year sponsored by Mazars. Again we managed to capture a video clip of Ashley Sowerby and his team receiving their award and you can watch this HERE.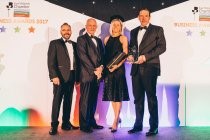 You can watch a video of Matt Wheatcroft, MD of Purpose Media and his team receiving their award for Marketing Campaign of the Year HERE. Commiserations to DrivenMedia, Koobr and Tidyco who came valiant runners up.
Thank you to all the Sponsors this year and of course to the EMC themselves for showcasing the top talent across Derbyshire once again!
A full list of all the finalists and winners is below: –
Business Improvement through Technology:
Sponsor: Greendog
Winner: Hardy Signs
Runners-up: Chevin Fleet Solutions, Picsolve International
Community Impact Award:
Sponsor: Futures Housing Group
Winner: Cosy Direct
Runners-up: Derby Museums, Hodgkinson Builders, Sarah Gatford
Outstanding Growth Award:
Sponsor: East Midlands Airport
Winner: Fifteen Design
Runners-up: ChargedEV, Chevin Fleet Solutions, DG Light Haulage, Purpose Media
Marketing Campaign of the Year Award:
Sponsor: Kemps Publishing
Winner: Purpose Media
Runners-up: DrivenMedia, Koobr, Tidyco
Commitment to People development Award:
Sponsor: PKF Cooper Parry
Winner: Talk Staff Group
Runners-up: Fujichem Sonneborn, Sky Recruitment Solutions
Apprentice of the Year:
Sponsor: Babington Group
Winner: Zachary Beer – Hodgkinson Bricklaying Contractors
Runners-up: Bria Kiely – Buxton and Leek College, Tom Lacey – Mercia Image Print, George Faulkner – Peak Sensors, Ollie Henderson – Purpose Media
Entrepreneur of the Year:
Sponsor: Shredall SDS Group
Winner: Mohammed Suleman – Derby Museums
Highly commended: Caroline Hopkinson – Emerald Accountancy
Runners-up: Sarah Stevenson – Astute Recruitment, Mark Pymm – ChargedEV, Matt Wheatcroft – Purpose Media
Education and Business Partnership Award:
Sponsor: Blueprint Interiors
Winner: R.E.A.L Education
Highly commended: Derby College
Runner-up: Skills for Careers
Excellence in Customer Service:
Sponsor: The Money Shop
Winner: Bright Side Vets
Runners-up: Banner Jones Solicitors, Fujichem Sonneborn, Geldards' Family Team, trentbarton
Excellence in International Trade:
Sponsor: Greenbank
Winner: Chevin Fleet Solutions
Runners-up: Global Brands, Picsolve International
Small Business of the Year:
Sponsor: Geldards
Winner: Bright Side Vets
Runners-up: Bowers Electricals, DG Light Haulage, Frame Fast UK, Tidyco
Manufacturer of the Year:
Sponsor: Rolls-Royce
Winner: Frame Fast UK
Runners-up: Bowers Electricals, Mercia Image Print
Business of the Year:
Sponsor: Mazars
Winner: Chevin Fleet Solutions