Can the Autumn Statement deliver an early Christmas present to SME businesses?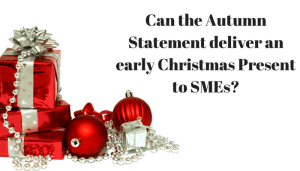 Wednesday's Autumn Statement: What SME Business Owners Want to hear.. An Early Christmas wish list!
In an uncertain world where the UK's parliament hangs on a slim majority and with Brexit around the corner a lot of business owners will be casting a keen eye over Wednesday's Autumn Statement. Will there be more red tape? Will there be more of the R&D Tax relief benefits that came in the Spring Budget earlier this year? 80% of SMEs never grow beyond 10 staff. This has to change and the Government has a prime opportunity to start to change this.
Some key areas the MDs of Britain's SME business community will be wanting to see include:
1/ New approach to providing ethical banking options for SME's. More people running banks like Dave Fishwick founder of Burnley Savings and Loans. Why can't the Government have their own form of Dave's bank for SMEs with a local business banker – a human being not an algorithm that spits out a yes or no lending decision with no LOCAL knowledge of that business or the surrounding area.
2/ Government led funding options to make increased working capital available for SMEs. This could be called The SME Growth Fund. This needs to be national and genuinely make a difference to all corners of UK Plc. Some organisations such as D2N2 do amazing work across Derbyshire and Nottinghamshire but this consistency needs some Government intervention to ensure all areas benefit equally.
3/ Initiatives to enable SMEs to get tax relief on training/ upskilling their staff from apprentices to fully fledged technically adept employees able to add value to their company and increase performance.
4/ REDUCE RED TAPE: SMEs already have Brexit, GDPR, increasing Auto-Enrolment contributions PLUS the mooted 'Making Tax Digital' on the agenda for 2019 for VAT Registered businesses. Does the SME community really need another raid on their ever- reducing profit margins?
5/ Reverse once and for all Class 4 rises to National Insurance Contributions. A great opportunity to dispel the notion that the Government doesn't understand small businesses and doesn't value the risks people take trying to work for themselves.
6/ Cancel the possible lowering of the VAT threshold to below £85,000. MD's/ Entrepreneurs and the self-employed looking to grow need assurances they have total immunity for this for at least the next few years. It would also help to remove the perception that the Government is out to 'grab' yet more cash from SME businesses.
7/ Introduce a government-backed Export Vouchers Scheme for SME's who export to Europe. This would have government-funded export experts advise niche exporters how to enable their young companies to sell worldwide.
8/ Make the Prompt Payment Code for SME's compulsory. 2000+ SMEs have signed up to this initiative already. The Government needs to make this compulsory, so big companies HAVE to pay their small suppliers on time, EVERY TIME! This will also provide crucial visibility to an SME owner deciding if they want to work with that major company?
9/ Suspend the planned increases to Business Rates and make exemptions for SMEs at least for a few years. Some companies have seen or are seeing 200% rate rises. This is not commercially viable.
10/ Provision for tax relief on investment in SMEs instigating occupational health scheme to recognise and deal professionally with Mental Health issues in the workplace and to provide funding for training for a representative within an SME organisation to implement best practice around this.
11/ Connectivity and Digital Growth. Make funding and tax relief available to SMEs so that they don't have to pay exorbitant costs to get an internet where they are that is fit for purpose. It cannot be right that there are still businesses in Derby and Nottingham's city centres have one option to go with extremely expensive options through national providers.
Let's wait until Wednesday and see what the Chancellor delivers!