Astute's Top CV Tips To Make Your CV Stand Out!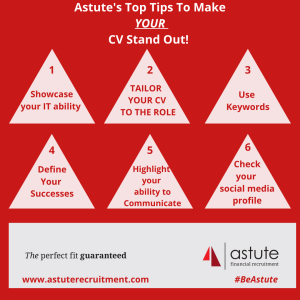 Here are some of the latest top tips and suggestions to help ensure your CV is destined to help steer you to the job of your dreams.
1/ Highlight your affinity with technology.
Nearly all jobs now require some interface with IT, especially jobs in accountancy, where there are myriad CRMs, ERPs and other systems which need to have their data migrated to Excel to produce the best financial reporting and analysis. One of the Big 4 firms recently stated that nearly 80% of CEO's regard abilities around AI to be THE number one asset of a business.
2/ Showcase your SOFT SKILLS. Nearly 60% of senior leaders state soft skills as being more important than 'hard skills'.
Examples of soft skills: –
Ability to adapt i.e. How can you embrace change?

Think of examples where you have successfully adapted to change and include these on your CV.
Your ability to be creative in thought & deed.

AI is only as good as the programming it has been given. It cannot 'think ahead'. People can. The ideas of tomorrow are what the bosses of today need from their teams and employees. Highlight how you are an 'ideas' person and how your creativity has: –
"made positive changes in your work/ or for your team/ or in your business to the company's performance"
Talking for Success – Ability to communicate;

Employers now need employees who can collaborate better, build stronger relationships, motivate more effectively to ultimately drive increased productivity and performance. SO, in your CV you need to showcase your verbal dexterity across negotiation, collaboration, and presentation. Just don't forget to listen!
Don't forget to include your latest Skills Learned! In your second job, you may have mastered world-class skills in the IT package of the day, but the employee of tomorrow needs their CV to show an affinity with the current and emerging technologies and software. Always showcase new skills learned over the last couple of years or even in the last few months! These new skills may be the very ones that make you stand out from the crowd and secure an interview.!
So, now you have an idea of the content for your CV – you now need to hotwire it with the 'keywords' that many search firms program their algorithms to pick out. Yep – your CV won't be picked out by a human being – more likely,  if you are applying to one of the larger, national and international recruitment agencies – your CV will need to stand out in a sea of applicants screened by non-human eyes.
Increasingly, even smaller search and recruitment agencies are turning to algorithms to 'sift' through CVs. However, at Astute Recruitment, we offer the human touch and always will, to pick up the nuances of individuals. But this point in general about larger recruitment agencies is key.
How can you 'proof' your CV and application to overcome these algorithms?
1/ Keywords all the way!
Not just any keywords, but the ones that are specific for the targeted jobs that you are applying for. So, if you are an accountant, make sure you include keywords relevant. So for example, if you are looking for a role as a financial accountant – keywords like Balance Sheet, Consolidations, Audit, Group Accounts may well be worth you including in your skillset! Equally, if you are a Management Accountant, keywords including Variance Analysis, Profit & Loss, Cost Centres, Cost of Sales, Gross Margin Reporting, Stakeholder Engagement may be wise to include!
2/ Softskills
Again think about the soft skills that your potential boss will be looking for… "Communication" "within budget and "deadlines". Now for the big tip. Most people include the former – but don't qualify what they mean. i.e. "OK – you completed X, Y, Z but how much did you bring this in less than budget?" or  "How much faster did you achieve your project than the original deadline? 10% faster? 30% faster?" Define your achievements with definite numbers and percentages. Make your achievements quantifiable. Show how they are continuous and year on year rather than just something achieved several years ago in a role since which you have received several promotions.
3/ Check your profile is good on social media. (Hint: This doesn't mean having a great photo of you at the trendiest wine bar on Instagram (unless you are going for a bar job! 😊)
Instead – LinkedIn is now one of THE main online spaces for any professional employee to showcase their skills. Use the summary field, for short, succinct snippets to showcase your key attributes in work. And to do this – again use our new friends, 'keywords'. Keep job titles straightforward. In-house recruitment specialists, HR professionals, and recruitment agencies and search firms will conduct 'keyword' searches on LinkedIn to identify as narrow a shortlist with the most relevant profiles for their roles. You need to try and make sure your profile is the one that appears in their searches. Avoid glitzy, busy icons, anything too 'random' and 'out there'.
Yes, you want to come across as someone with ideas and creativity of thought, but you need to also come across as someone who can fit into the professional, flexible, 21st century working world.
For personal, one on one advice about your CV, or anything to help you take the next step in your career, contact our team for
confidential and tailored advice on 01332 346 100