Astute's Sarah Stevenson nominated in EMC's 2017 Business Awards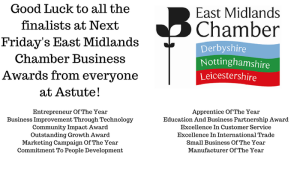 Managing Director Sarah Stevenson at Astute Recruitment has been shortlisted for another prestigious business award by the East Midlands Chamber!
Sarah has been named as a finalist for the East Midlands Chamber 2017 Business Awards under the category of Business Woman of the Year for her work establishing and continuing to grow Astute Recruitment.
After facing redundancy, Sarah and Mary Maguire set up Astute Recruitment in 2009 with nearly 20 years' experience in recruitment each. Since then, the business has gone from strength to strength, growing to a team of nine across two offices in Derby and Nottingham.
Co Owner of Astute, Mary Maguire, said: "Sarah and I have become great business partners and friends, and it's been amazing to work alongside her as we continue to grow our business.
"Right from the outset, Sarah's dedication to Astute and the team has been infectious. She has worked hard to create a workplace culture that makes Astute a great place to work – from introducing flexible working to initiating a new bonus scheme for staff to helping team members map out personal development plans.
"Sarah has also been vital in helping Astute develop its brand, working with our non-executive director to establish our new logo, plus a total re-haul of our website and social media presence.
"We are delighted that she has been recognised through these awards and the whole team has their fingers crossed ahead of the big night!"
Sarah said: "I'm honored to have been shortlisted. Setting up Astute has been a real step out of my comfort zone, both personally and professionally but it has been a fantastic journey so far.
"Being Managing Director of your own business is a challenge, but I'm proud of the team we've built and excited for what the future holds for Astute."
The judging day for finalists took place 17 July at the East Midlands Chamber's Chesterfield offices and since then Sarah has been announced as one of 5 finalists for the awards evening on Friday 8th September. The awards evening is being held at Derbyshire Cricket Club's 3aaa County Ground. All of the team here are looking forward to the night and will be keeping our fingers crossed for Sarah!