ASTUTE SETS ITS SIGHTS ON GROWTH WITH 3 NEW HIRES!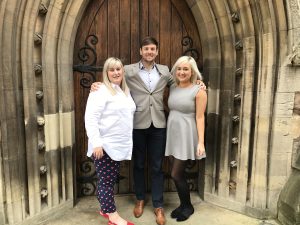 DERBY-based recruitment agency Astute Recruitment has expanded its team with the addition of three new hires to support the business' plans to diversify.
Rose Heppell joins the team having spent two years working in recruitment for non-finance positions, such as administration, HR and marketing, which she will continue to do in her new role as commercial consultant.
Rose said: "I'm really excited to be joining the team. Astute does great work for local businesses, which is what attracted me to the company in the first place. 
"This is a brand new area for Astute too, so I'm looking forward to getting stuck in."
Annie Adams and Guy Draper also join the team as consultants. Together they bring a total of 10+ years' experience with them and will be working with clients across the East Midlands.
Annie specialises in a range of financial positions including ledger clerks, bookkeepers and assistant accountants, while Guy's experience lies predominantly within sourcing fully qualified accountants for executive roles.
Mary Maguire, managing director said: "We're thrilled to have Rose, Annie and Guy joining us. In the past we've always focused on recruiting for the financial sector, but with Rose on board we're now in a position to expand the services we offer to our clients.
"All three are bringing some fantastic experience and knowledge with them, and we're confident that they'll be a great asset to the team."
Astute Recruitment is a multi-award winning accountancy recruitment agency offering bespoke solutions to clients and helping candidates to find suitable positions in Derbyshire, Nottinghamshire and North West Leicestershire.
About Astute: 
Astute Recruitment is a specialist accountancy and office support recruitment consultancy. Working from its head office in Derby, the firm recruits permanent, temporary and contract staff across Derbyshire and Nottinghamshire. Website: www.astuterecruitment.com