Astute Recruitment named "East Midlands Business of the Year"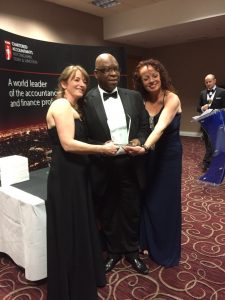 This article first appeared in the East Midlands Business Link
Astute Recruitment has been named "East Midlands Business of the Year" at the Institute of Chartered Accountants in England and Wales (ICAEW) Chartered Accountant of the Year Awards 2016.
The prestigious awards ceremony took place at Nottinghamshire's Eastwood Hall on 3rdMarch.
Astute Recruitment is an accountancy recruitment agency operating across the East Midlands which offers bespoke recruitment solutions to its clients.
Mary Maguire, director at Astute Recruitment, said: "We are delighted to have been awarded this accolade by the ICAEW, our whole team works hard to ensure that we provide a fantastic service to all of our clients, who are looking for bespoke recruitment support across the accountancy sector.
"Astute Recruitment has continued to grow and we are so proud of all we have achieved since 2009, when we first set up. We work closely with SMEs and large accountancies to offer the very best advice and service we can and we are proud to have been recognised for this."
Astute Recruitment's two owners Sarah Stevenson and Mary Maguire set up the business in 2009 at the height of recession after facing redundancy. Six years later, Astute now boasts two offices, a growing reputation and an increasing number of clients.
Through educating, advising and genuinely partnering SME business owners, Astute Recruitment's team advise business owners on practice in HR, business and financial performance.
Maguire added: "This award marks a true milestone for us and is a testament to our whole team. We not only work to benefit the business community through our services, but also through supporting charities based in the Midlands too."
Astute Recruitment has secured over 1000 jobs for local businesses.
The consultancy currently recruits permanent and temporary accountancy staff in Derbyshire and Nottinghamshire.