Astute Recruitment Ltd named "Best Niche Recruitment Consultancy 2017" By ACQ Magazine!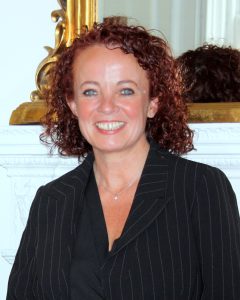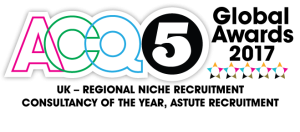 Astute Recruitment has been named 'Regional Niche Recruitment Consultancy of the Year' at ACQ (Acquisition Finance) Magazine's Global Awards.
ACQ Magazine holds its usual Global Awards programme annually to recognise firms who demonstrate ongoing outstanding performance and lead the way across the entire corporate sector including accountancy and finance.
Mary Maguire, managing director of Astute Recruitment, said: "We are absolutely thrilled to receive this prestigious award by ACQ Magazine. It caps a great year where we achieved record revenues."
"We're passionate about supporting local businesses by matching them with the right people and we've worked hard to establish a reputation as experts in this field. We already pride ourselves on being the 'go to' financial recruitment agency in the East Midlands but it's an honour to be recognised on a much wider, international scale."
"The team routinely goes above and beyond in terms of what we offer our clients and candidates, while at the same time pushing the boundaries of what has previously been thought possible for recruitment firms. One example of true innovation is the launch of our 'Triple Point Guarantee' for clients – unique across the recruitment sector."
"We also have our hugely successful series of business breakfast events, with the next one in February. International guest speaker an published Author, John Dabrowski, will be speaking about mental resilience."
"These events are designed to be educationally innovative, inspiring and powerful workshops, where SME business & professionals can genuinely take away key techniques to improve their engagement with staff and ultimately improve business performance."
Astute has worked to secure more than 1500 jobs for local businesses and is continuing to go from strength to strength, hiring 3 new consultants in the last 6 months and launching a successful commercial division.