Astute Recruitment is one of the Three Best Rated Recruitment Agencies in Derby!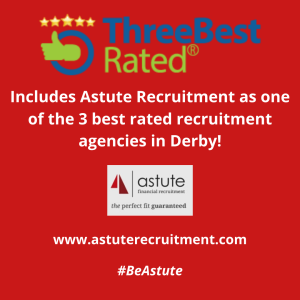 All of us at Astute Recruitment Ltd are delighted to have been formally included as one of Derby's top three recruitment agencies on the prestigious search website Three Best Rated!
With over 15 business awards and successful recruitment across the Derbyshire region, its great to be in our 10th year and receive this recognition.
Astute Recruitment was set up by our two founders – Sarah Stevenson and Mary Maguire, back in 2009.
Sarah had this to say, "Mary and I are thrilled to be ranked in the top three recruitment firms in Derby by Three Best Rated. To have our business featured as one of the top 3 firms cements our status as the 'go-to' recruitment agency specialising in jobs across finance and back office. This is brilliant news!"
Mary went onto say, "We have grown a lot – our team is expanding and we have an exciting new office move planned to further allow our team of experienced recruiters to grow. As Sarah said, to be included by leading search website Three Best Rated is amazing news and both of us and our team are delighted!"
You can view our listing on the link below: –
Three Best Rated – Astute Recrhttps://threebestrated.co.uk/recruitment-agencies-in-derbyuitment Ltd