Astute Recruitment helps to bolster board of directors at Notts charity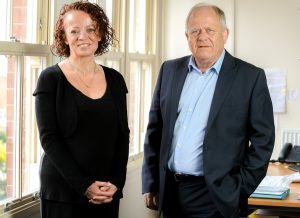 Accountancy recruitment agency Astute Recruitment has offered to help Nottingham-based charity Enable bolster its team.
Enable works to support voluntary and community focussed organisations in the East Midlands, providing advice and support in terms of economic development, learning, skills and employment.
Mary Maguire, director at Astute Recruitment, which has offices in Derby and Nottingham, felt compelled to help Enable grow its team when she visited the organisation's offices.
She said: "At Astute Recruitment we recognise the importance of finding the best candidates possible, helping to grow and enhance your existing workforce. When I met with Enable's chief executive Don Hayes, I was blown away by Enable's amazing work across the region and the service it offers to other charities.
"When I spoke with Don, he mentioned that Enable was currently searching for non-executive trustees but had been struggling to find the right fit. Almost immediately, I knew we could help, especially in terms of accountancy candidates. Once a year we try to carry out one piece of pro bono work for local charities and I am delighted that we helped Enable recruit not one, but two new non-executive directors: Alan Bunn and Nikki Hufton".
Thanks to Astute Recruitment's support Enable has now appointed Alan Bunn as its non-executive finance director and Nikki Hufton as its non-executive HR director.
Don Hayes said: "I was taken aback when I met with Mary, who approached us to find out more about what we do and how we work. I mentioned in passing that we were looking for volunteers to help fill the skills gap on our board of directors, but I never dreamt for a moment she would find a group of suitable candidates for us.
"We are delighted to have Alan and Nikki on our board, they have made a huge difference to our day-to-day activity and made a positive impact. We are so grateful to Astute Recruitment for helping us find Alan and Nikki and we would recommend Astute to anyone looking to fill a skilled accountancy role".
Enable works to support individual small local charities and voluntary organisations in the East Midlands to access government funding for learning and skills programmes and to more effectively meet the learning and skills needs of individuals within their communities.
Hayes added: "Before I met with Mary we had looked to recruit new board members through traditional avenues; advertising in financial magazines, word of mouth and advertising to specific organisations – none of which were successful. It is so important for us to have a strong board of directors as we support other organisations in bolstering their skills and teams".