Astute Recruitment bringing our popular business breakfast event on Emotional Intelligence for business success to North Derbyshire!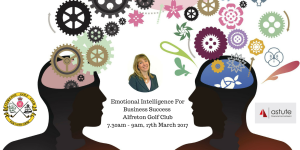 Due to popular demand, Astute Recruitment are delighted to announce our second event with guest speaker Lisa  Spencer-Arnell. Our first event at the end of last year in Branston on Emotional Intelligence was so popular amongst attendees with those who couldn't make it saying that they would definitely attend another event if it was to the north of Derby closer to Junction 28 of the M1. So we are all delighted to announce we have booked Lisa again!
Our event will be held at Alfreton Golf Club, Wingfield Road, Oakerthorpe, Alfreton, DE55 7LH on Friday 17th March 2017 and will commence from 7.30am with complimentary teas/ coffees and breakfast cobs. Emotional intelligence and wellness  at work have become key topics of importance to business professionals.
What is more important to your financial success? IQ or Emotional Intelligence (EI)? 
What has the biggest impact on   achieving extraordinary results, building great relationships and being   fulfilled in life? 
Over recent years Emotional Intelligence and mindfulness have become recognised and acknowledged as key elements of business and personal success, outstanding performance, happiness and good  health.
In this interactive session, you'll hear about and experience the positive difference EI can make in your  business and team, including: –
·        What EI really is and the role it plays in work & leadership.
·        What the research tells us about IQ & EI.
·        How our amazing brain works and what we can learn from neuroscience to get the best out of ourselves and others?
·        How you can increase your self-awareness through EI.
·        Mindfulness and the impact on your focus, clarity, and effectiveness.
·        The most important question you can ask yourself.
·        3 ways to raise your game and impact your results.
Lisa Spencer-Arnell is ideally placed to explain Emotional Intelligence and Wellness at work through her highly successful career as an International Consultant & Coach – Inspirational Speaker and Published Author. Her work on Emotional Intelligence has been widely praised and recognised.
This is the third breakfast business event hosted by Astute Recruitment and follows on from the great success of our previous events: –
"Emotional Intelligence For Business Success with Lisa Spencer-Arnell" at Branston Golf Club
"Strategies to win in business" at Geldards on Pride Park with Neil Back MBE.
Again we only have a limited number of spaces to attend our forthcoming breakfast on emotional intelligence so please register HERE to register and confirm your place on our dedicated Eventbrite Page.
Lisa Spencer-Arnell: – Treasure Seeker, Leadership Consultant & Coach, Author, Speaker
Programme: –
7:30             Registration, complimentary tea / coffee and breakfast
7:45             Introduction
7:50             Lisa Spencer-Arnell
8:45             Opportunity for Q & A/ Networking
9:00             Close
Free car parking is available and if you have any special dietary requirements please contact Mary Maguire by email: – mary.maguire@astuterecruitment.com