Astute Raising Our Glasses With Other Finalists For Derby Telegraph's Business Awards 2016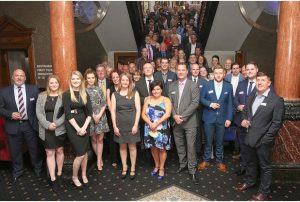 A CELEBRATION event has been held in honour of the businesses nominated for the Derby Telegraph Business Awards.
Firms that have made the shortlist were last night given the chance to fete their success at a champagne reception evening at the Finesse Collection's Cathedral Quarter Hotel, in St Mary's Gate, Derby.
After weeks of poring over the entries, a shortlist of three finalists has been drawn up for each of the 13 categories.
Winners will be revealed at a gala awards ceremony at Derby College's Roundhouse, on Pride Park, on June 9.
Last night's event was thrown in the firms' honour by Champions (UK) plc, which is staging the awards in partnership with the Derby Telegraph.
The finalists were welcomed to the venue by the Finesse Collection's chief executive, James Blick.
The Cathedral Quarter Hotel, which is a historic Grade Two listed building, is one of the business awards' key sponsors.
When it opened in 2008, following a £5 million refurbishment, it was Derby's first independent boutique hotel and has received a number of high-profile guests – none more so than Her Majesty the Queen.
Today, it hosts meetings and conferences for a wide spectrum of Derby businesses and organisations.
Mr Blick said he was pleased to continue to support the Derby Telegraph Business Awards. He said: "It is only right to celebrate business success and this is the reason why we were keen to sponsor the awards.
"Derby has so many positives when it comes to doing business. It has excellent transport links, is centrally located and has the highest average salaries outside of London. It also has a strong leisure culture.
"These are just some of the reasons why major global brands have located to our thriving city."
During last night's event, the finalists had an opportunity to mingle with the sponsors, who have judged each category.
Several of the sponsors spoke on the night about how impressed they had been by the high standard of all the nominations.
The two headline sponsors of the awards are Derby College and Concur. The college is also sponsoring one of the most coveted awards – the Company of the Year category.
April Hayhurst, the college's business development director, said: "Derby is the UK's city of innovation and businesses today are continuing our proud heritage of breaking new ground across the industrial sectors and setting the bar high for the rest of the country to follow.
"The Derby Telegraph Business Awards are a vital part of that landscape. They celebrate success and encourage the whole business community to aim high."
Derby Telegraph editor Neil White said: "It was great to see so many high-quality businesses come together at last night's event.
"Looking ahead, the awards ceremony itself promises to be a fantastic event and a wonderful celebration of Derbyshire business excellence."