Astute promotion to Director for Sarah-Louise Wykes!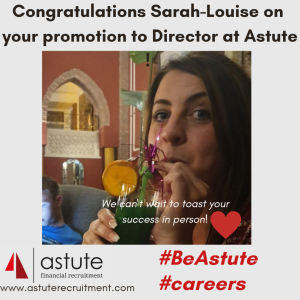 It is with huge pleasure that we can announce our long-serving employee, Sarah-Louise Wykes, has just been awarded a well-deserved promotion to Director! As part of the ongoing development of our recruitment team, it is crucially important to reward success and see the careers of good people in our team flourish. We have a clearly defined career structure of promotion and career development for our staff, and it is wonderful to see someone achieve so much in our team.
Sarah-Louise originally joined Astute in 2012 after a successful career as an Assistant Accountant. With her hands-on experience in accountancy, she has been able to develop excellent, long-standing relationships with clients and candidates in the local East Midlands market.
From starting as a Trainee Consultant, Sarah-Louise achieved 4 promotions. After a break to follow an opportunity to recruit finance professionals internationally, we are delighted to announce that Sarah-Louise has just been promoted to Director after resuming her career with us in 2020!
A well-deserved promotion!
Our MD Sarah Stevenson said of Sarah-Louise's promotion: – "I recruited Sarah-Louise into my team at Astute with no prior recruitment experience, but a great grounding in accountancy and finance and lots of ambition. She has always been quick to learn, and equally keen to develop. Sarah-Louise has been and remains one of the hardest working members of my team. To be able to help her career along, and watch her thrive and become the successful business person she is today is one of the proudest moments in my career."
Mary Maguire, MD also had this to say: – "I've had the pleasure of knowing Sarah-Louise for many years now. Recruitment is a people business and you need colleagues in your team who are great listeners, communicators, and team players. Sarah-Louise has each of these attributes in abundance. I'm thrilled and delighted to welcome Sarah-Louise onto our Board of Directors, and look forward to many more successful years working with her."
Expertise
All non-qualified, transactional finance staff, from ledger clerks to supervisors and managers, bookkeepers, assistant accountants, and aspiring part qualified accountants on a temporary, permanent, and contract basis within the East Midlands.