Astute Promotion! Andy Lilliman promoted from Senior Consultant to New Business Manager!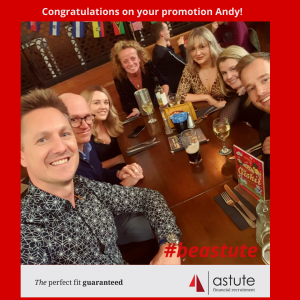 Congratulations on your promotion to Manager Andy! Much deserved!
Andy Lilliman joined our team here at Astute Recruitment, as a Senior Consultant two years ago, after a deeply successful career in Accountancy Recruitment straddling London and the East Midlands.
In that time he has been instrumental in the growth of our qualified accountancy division and become a huge asset to our team. Andy's hard work has paid off handsomely with a richly deserved promotion heading up business development across the East Midlands. His professionalism, attention to detail and brilliant ability to form relationships have won him many great friends here at Astute Recruitment Ltd and elsewhere.
As an aside, it has been wonderful to see how Andy has been able to mentor, train and encourage less experienced members of our team, passing on some of his recruitment pearls of wisdom.
Sarah Stevenson and Mary Maguire are thrilled to announce Andy's promotion, cementing his role in Astute's continued growth and exciting plans for 2020 across the region!
This morning, only 1 day after being promoted and Andy has secured a new Financial Director role and arranged a client visit to take all the details of this role!