Astute named 2016's Best Small Business Recruitment Company By CV Magazine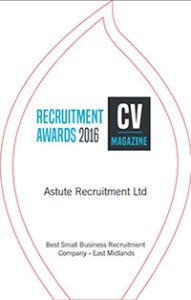 Our successful year at Astute continues with us being named as 2016's Best Small Business Recruitment Company by CV Magazine!
With a global network of 130,000 CEO's, directors and other top-level decision makers, investors across the worlds of IT, training, manufacturing, marketing, design, retail and more, it is amazing for all of us here at Astute to have received this recognition as the best at what we do!
Below is the article which appeared in AI Global's CV Magazine celebrating the crop of this years business award winners…
"From redundancy in 2009 Sarah Stevenson and Mary Maguire set up and established Astute Recruitment Ltd as a unique, multi-award winning accountancy recruitment business and brand. Regionally acknowledged as the expert in their sector, their core business is the recruitment of all levels of accountancy and finance professionals from ledger staff to Financial Directors.
Astute works across the East Midlands from their head office in Derby.  Astute's second office in Nottingham 2015 reflected a mounting demand from business owners and hiring managers for skilled accountancy professionals.
18 months ago after a period of record growth, Sarah & Mary appointed a Non-Executive Director to focus the business and establish firm strategic plans. This included a total re-brand with a new website, corporate logo, state of the art IT system, accounting software and transformational messaging. All of this has enabled the brand to reach a wider audience.
Astute were then able to promote and educate the wider business community about their story.
Astute Recruitment is a Midlands based recruitment firm specialising in supporting small businesses. We profile the firm and explore the secrets behind it's success.
and the great services they offer. Astute and Sarah and Mary have been shortlisted for a number of awards, including Sarah being awarded SME Small Business Director of the Year at the 2015 Institute of Directors East Midlands Business Awards. Sarah was also awarded the coveted Entrepreneur of the Year award 2015, by the Derbyshire Times. 2016 followed this success with Astute being recognised at the ICAEW's awards in March winning East Midlands Business of the Year and announced as finalists this year for the second year running for the national Women In Business Awards.
One of the hardest things to overcome for recruitment businesses is a lack of trust generally in the recruitment sector. Often Astute's clients have never used a recruitment agency before or had a bad experience with an existing supplier that's soured their view of what a recruiter can do.
To give those who have not worked with Astute before, they have created their "Triple Point Guarantee". This gives new customers the confidence to try their services risk free, safe in the knowledge that in the unlikely event that the firm doesn't manage to fill a position within an agreed timescale, Astute will pay £500!"
To view the full article in CV Magazine on all the winners please click here.