Astute Finalists of 2016's Forward Ladies Women In Business Awards – Midlands Region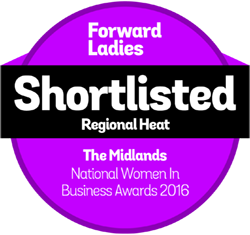 The team here at Astute Recruitment are keeping their fingers crossed for Sarah and Mary attending as finalists of Forward Ladies National Women In Business Awards (WIBA). These awards are dedicated to recognising the achievements of leading women in business in the Midlands Region.
As one of the UK's largest gatherings of businesswomen and leaders, this event is one of four regional heats from which the winners will be entered into the Forward Ladies Women in Business UK Final in Leeds on Thursday, 1st December 2016. The event itself is a celebratory lunch with business speakers of the highest calibre held in Birmingham City Centre at The Hyatt Regency Hotel.
We are keeping our fingers crossed for ourselves but also wish the very best of luck to all the deserved finalists in their categories!