£605 raised and counting! Astute Do #movember2021. Help us raise more!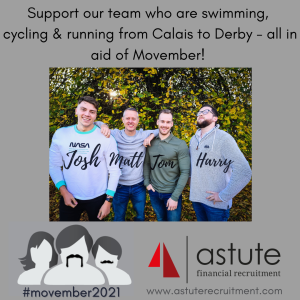 This is the second year all of us at Astute Recruitment Ltd wanted to support #Movember.
Aiming to highlight awareness of men's mental health but also raise much needed funds for a terrific cause.
All of us may not be lucky enough to have all our brothers, fathers, uncles and nephews around, but most of us will – thankfully!
Sadly, too many of us will know the heartbreak of losing loved ones – whether through mental or physical illness.
It hurts – a lot.
Movember, while a fun, annual event, aims to raise the profile of mental health harms on men. Whatever their age, status, career or salary, men – young and old – can suffer from mental health at any point in their life.
So this year, Harry Langridge, Tom Norton, Josh Dunn and Matt Morgan are all taking part in a very special #movember2021! So far the running total raised is a brilliant £605! With only a few days left, we are all hoping we can raise a bit more for such a brilliant cause!
To honour the 60 men who are lost every single hour of every single day across the world through suicide, they are undertaking to 'travel' all the way from Calais to our Head Office in Derby, via the English Channel, Dover and Nottingham!
Throughout November, they are each aiming to swim , run and cycle every day- come rain, hail or probably ice (its getting colder out there!).
Globally, one man takes his own life every minute, of every day. This Movember, Harry, Josh, Matt and Tom are moving for them.
They are each aiming to [walk/run, Cycle and Swim] 60 kms over the course of Movember.
The men who should still be here today.
Going the distance and Moving every day has been very tough. All those dark winter mornings in the pool or on the bike/ road, but your donations will help keep them going.
Not only that, but you will be helping to fund ground-breaking projects in mental health and suicide prevention. Like Making Connections – a Movember-funded initiative that puts mental health help into the hands of at-risk groups – such as men of colour, military members, veterans, and their families.
It's projects like these that can help them reduce the 3 out of 4 suicides that are men.
Donating is easy! Just click on the link below to take you to our team's Mo Space!
Once you're there, you'll also be able to track their progress as they swim/ run and cycle towards their distance goal!
We've been sharing updates on our team page too!
Did you know?
Suicide is largely preventable, however, shockingly, around the world we lose 60 men to suicide every hour of every day. These are our fathers, brothers, sons, uncles and friends.
Some heart-breaking statistics & links are below: –
How movember makes a difference…..
Extra ways YOU can support #movember2021!
GROW A MO
Patchy, lopsided, itchy or epic – whatever Mo you grow this Movember, your face will raise funds and awareness for men's health.
MOVE FOR MOVEMBER
Commit to running or walking 60km over the month, at your own pace. That's 60km for the 60 men we lose to suicide each hour, every hour across the world.
HOST A MO-MENT
Rally a crew and do something fun and easy. Hosting is all about having a good time for a good cause.
MO YOUR OWN WAY
Create your own challenge – it can be anything. A gruelling test of physical endurance or a not-so-sweaty pledge to kick a bad habit. Your epic efforts will help change the face of men's health.