Astute celebrate their 10th anniversary with a birthday party this week!
Celebrating our tenth business anniversary, the Astute Team are looking forward to hosting our Birthday Party in Derby this Thursday evening. We are trying to get round to as many candidates and clients who have supported us to say a huge thank you and celebrate with us over a couple of complimentary drinks and some cake!
At the helm of Astute Recruitment are the two MDs, Sarah Stevenson & Mary Maguire.
Sarah said, "It's amazing to think that with just a couple of laptops and my redundancy money, we are now one of the leading accountancy and finance recruitment businesses across the East Midlands. Its all down to our brilliant team and I know I speak for Mary when I say I'm really proud of what we have achieved together."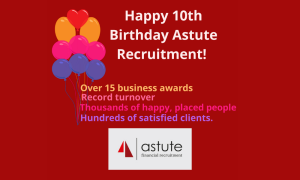 If you would like any information, please contact Mary Maguire either in the office on 01332 346 100 or on her email mary.maguire@astuterecruitment.com