As the weather heats up, will it be a bumper summer for business? The forecast looks good! 🌞 Read our latest statistics on employment, staffing trends and business.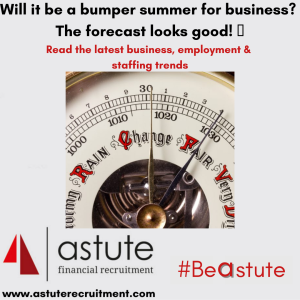 As the weather heats up, will it be a bumper summer for business? The forecast looks good! 🌞
In 1976, like now, some boys hair was as long as girls, if not longer. 🤣🤣👭 Fashions were tank tops, and of course, flares! On the airwaves, Queen's Bohemian Rhapsody, Bay City Rollers, Fleetwood Mac, Elton John, the Bee Gees, and more. 🎶
But, it wasn't the clothes we wore, or the music we listened to that made 1976 stand out. It was the incredible heatwave!
Like this year, April 2020 was one of the sunniest Aprils on record, and 2020 ended up being one of the driest springs on record too. Thats what happened in 1975, the year before we enjoyed one of the greatest, long, hot summers in the UK.
Our economy seems to be heating up too! Below we share the latest key statistics from respected organisations on staffing trends, employment and business confidence.
After the turmoil of 2020, 38% of firms surveyed by the Confederation of British Industry (CBI) said their outlook on the business situation had improved in the past three months.
This is the first positive reading since January 2020, before the pandemic shut down much of the UK economy and the highest since April 1973.
Factories are also stepping up hiring, with the measure of firms looking to grow their workforce over coming months at the highest since 1974.
The survey's results also found that while manufacturing output was broadly flat in the past three months, orders for new work are picking up and investment plans are being accelerated to take advantage of a "super-deduction" tax break announced in Chancellor Rishi Sunak's budget.
The release of the IHS/Markit purchasing managers' index came after official data showed strong growth in retail sales in March when most of the lockdown restrictions imposed to halt the spread of the Covid-19 pandemic were still in force.
Overall PMI rose from 56.4 in March to 60.0 in April, well above the 50 cut-off level that shows whether the economy is growing or contracting. Service sector business activity rose from 56.3 to 60.1, while manufacturing output was up from 56.6 to 59.1.
Markit's chief business economist, Chris Williamson, said it was the strongest showing in the 23-year history of the PMI other than a four-month period between August and November 2013.
Companies are reporting a surge in demand for both goods and services as the economy 'unlocks' and the encouraging vaccine rollout adds to a brighter outlook," Williamson said.
"Business activity should continue to grow strongly in May and June as virus restrictions are eased further, setting the scene for a bumper second quarter for the economy."
In more good news for business, The Office for National Statistics said that in March 2021 – a month in which there was only a modest relaxation of the curbs imposed across the UK to stop the spread of Covid-19 – retail sales rose by 5.4% – well above the 1.5% predicted by City economists, with sales in March 1.6% higher than they were before the pandemic began to have an impact on the economy in February 2020.
In good news for the high street and businesses with fixed premises, rather than just online revenue streams, the ONS said the proportion spent online decreased to 34.7% in March 2021, down from 36.2% in February 2021, still above the 23.1% reported in March 2020, the month when lockdown restrictions were imposed for the first time.
And what of jobs and employment trends? 
New data from the Recruitment & Employment Confederation (REC), stated that business confidence in their ability to hire new staff continued to improve in the three months to February 2021.
Employer confidence in hiring rose to a net level of +16 in December-February 2021, six percentage points higher than in the three months to January. In February alone, this surged to net: +29, as the government's roadmap for easing lockdown was announced and firms could start putting their re-opening plans into gear.
Neil Carberry, Chief Executive of the REC, had this to say:
"Recruiters report that this latest lockdown has been much less damaging than many feared back in January. The relative health of the economy and the jobs market is now being reported by business surveys, official figures and our own data. Our figures show that hiring companies are confident about bringing people into their businesses now, and that has to be good news for all of us."
Employers are still being cautious, reflected in employers leaning more on interim and temporary staff.
Interim workers remain a great way for people to find work quickly and for firms to hire when the outlook is not certain.
Key statistics: – 
Hiring intentions for temporary agency workers rose by eight points to net: +14.
Employers' intentions to hire permanent staff in the short term fell by five points, but remained high at net: +19.
Employers' intentions to hire staff in the medium term (over the coming 4-12 months) increased in December-February 2021, rising to net: +30 for permanent staff and net: +15 for agency workers.
So, the weather for business looks set fair, and the forecast for Summer 2021 and the rest of this year, looks very encouraging!
Could it be a record-breaker? We'll just have to wait and see.
A bit of fun for those too young to remember the summer of 1976, here are some reminders.
1976 was the hottest, sunniest and driest summer people had seen up to that date. The government panicked about low water levels in April and May, and hosepipe bans combined with water restrictions were introduced. People were told to water their gardens with used bath water. I remember families including mine, collecting water from standpipes in their streets.
A minister for drought (Denis Howell) was appointed, promptly telling all to cut water consumption by half, or face water rationing until December! He also told people to pour washing up water into toilets instead of flushing.
Water companies issued a total of 139 drought orders.
Hospital admissions soared with many people suffering from sunstroke, heart attacks and a higher incidence of asthma.
 The M1 and other motorways had problems with tarmac melting.
Large areas of woodlands and heath turned brown, and were sadly devastated by fires which in some cases had to be left to burn because of the water shortage.
The high temperatures continued through August with many parts of England exceeding 330 hours of sunshine and highs of 25-30c on many days. 🌞😎
Then the heatwave finally ended.
The last week in August saw the beginning of the end of the heatwave, with spectacular thunderstorms.
That historic heatwave was followed by an exceptionally wet autumn, with some places recording over 200% of their normal rainfall. Heavy storms and torrential rain continued on many days through to October, ending one of the worst droughts on record.
Mary Maguire
Managing Director
Astute | Accountancy & Finance | HR | Office Support
Suite One, Ground Floor West, Cardinal Square, 10 Nottingham Road, Derby, DE1 3QT
T: 01332 346100
M: 07717 412911
E:  mary.maguire@astuterecruitment.com
LI:  https://uk.linkedin.com/pub/mary-maguire/18/73/553
LI: www.linkedin.com/company/astute-recruitment/