An Easter message from all of us at Astute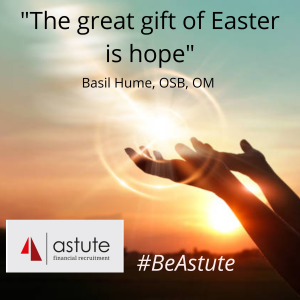 In the wise words of Basil Hume, "The great gift of Easter, is hope", and this Easter, hope, renewal, and faith are definitely needed.
Whatever your faith or denomination, this Easter is a time to pause, reflect and think of all those suffering. It is also perfect to remember Easter is a symbol and celebration of renewal.
It's a powerful thought that Easter symbolises a journey of anguish and pain, but that in the end, there is hope, renewal, celebration, and a future.
This year, while we can't be together with families and friends, as usual, we can all take the time to be thankful for every brave, brilliant person working to keep societies going and saving lives.
From the humble shopkeepers, delivery drivers, carers, bin men, and so many more, to those in the emergency services and NHS frontline workers.
This Easter, we salute you all and look forward to next year when hopefully things will be so much better.
Happy Easter from all of us at Astute.
Be safe
Be strong
Stay at home, protect our NHS, Save Lives