A smooth sea never made a skilled sailor, nor a skilled accountant!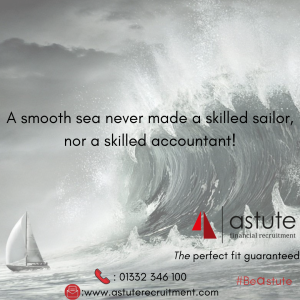 "A smooth sea never made a skilled sailor."
A great quote by FD Roosevelt. We feel that the same applies to accountants.
It's through the turbulent times though that we learn, in life and at work. When things don't go quite as planned, we have an opportunity to learn, to become a better sailor – or, in the case of our clients, become a better business, and our candidates – to become better accountants.
Enjoy the smooth sailing when the seas are calm. But when the surf swells and storms brew, remember: that experience brings the ability to cope with headwinds.
The same is true of accountants and all finance professionals. From credit controllers who can free up much needed cashflow by reducing outstanding debtors to a strong Finance Director or Financial Controller who can win that key tender or negotiate better rates with that new tender. Hard experiences teach finance professionals how to cope in difficult situations.
Our Astute seafaring ode to accountants everywhere: –
What is a business, without an accountant at the tiller?
Assessing performance, the greatest biller?
Forecasting growth, future success,
How to improve profits, stakeholders to impress!
Through recession, through growth, the bad and the good,
None can enlighten like a great accountant could.
Through the choppy waters of business life,
A strong accountant can solve financial woes and strife.
A seasoned finance professional,
Can bring a steady hand and deliver the exceptional.
Financial accountants; "How much are we owed?"
Payrollers processing pay for those furloughed.
Credit controllers to keep debtors down,
Managing relationships with a smile not a frown.
Part Qualified and Finalists, improving analysis,
Working hard to avoid performance paralysis.
Accountants in the office or WFH,
Rest assured, their value alone,
Will see your business thrive and grow.
So #BeAstute, use the finance recruitment firm 'in the know!'
Contact our team 'in the know' for your career development or to source an experienced accountant in your finance team: –