A heartwarming message of thanks from one of our candidates!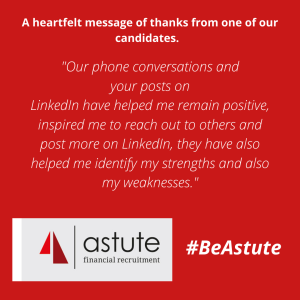 A heartfelt message from one of our candidates during the lockdown!
"Thanks Mary for your words of support and inspiration over the past two months whilst I have been searching for a new role.  Our phone conversations and your posts on LinkedIn have helped me remain positive, inspired me to reach out to others and post more on LinkedIn, they have also helped me identify my strengths and also my weaknesses.
Your fantastic webinar by Richard McCann also inspired me to build my resilience, believe in myself and also show a more caring attitude towards others.  Times are tough for all of us, we need to support each other and I wish you and all at Astute all the best for the future."
Thank you Nick, this is why our team tries so hard to offer the personal touch and genuinely tries to help people by offering support and constructive advice to help them in their job search.
A great way to end a great week!