A great night celebrating success at the Chamber's Enterprising Women awards 2017.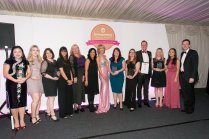 It was a great night at Colwick Hall celebrating the success of EMC – East Midlands Enterprising Women. Everyone who was recongised as a finalist are winners in their own right – including our very own Sarah-Louise Wykes who we are all really proud of.
The list of winners and their categories: –  
Sharon Redrobe OBE & CEO of Twycross Zoo –  East Midlands Zoological Society awarded Inspirational Woman of the Year.
Dr Redrobe was one of six women and a team presented with awards at the dinner. Six more and another team were highly commended. The awards recognise the achievements of women in business, many of whom have to balance running families and households to achieve their success.
The other winners included:
Business Woman of the Year – Suzanne Smith of Soteria Asbestos
Community Champion of the Year – Barbara Cathcart of Nottingham Hospitals Charity
Enterprising New Business Woman of the Year – Mital Thanki of Spark Academy
Team of the Year – Geldards Family Team
Female Employee of the Year – Min Rose, of The University of Nottingham
The event was co-Chaired by Jean Mountain, a Director and Immediate Past President of East Midlands Chamber (Derbyshire, Nottinghamshire, Leicestershire), and Eileen Richards, business owner and former Chair of Integra for Women in Business in Leicestershire, which merged with Enterprising Women.
Eileen said: "We were very impressed with the quality of the applications this year and level of support for women in business."
The gala dinner was hosted by freelance presenter Emma Jesson, who was GMTV's first weathergirl, later working for ITV Central and ITV Granada.
Each of the awards was sponsored with the event's headline sponsor, Cambridge & Counties Bank, coordinating a 'Women in Business mentoring scheme', which is supported by Enterprising Women.
Eleven mentees were shortlisted to take part in an assessment day. The successful mentees, which were also announced last night, were Amanda Overend of Books & Pieces, Jade Patel of Cambridge & Counties Bank, Neha Kadiwar of Hastings Direct, Sarah Wilkins of Lumbers and Lynsey Hyslop of The Rugby Players Association.
Jean, who launched Enterprising Women 20 years ago, said: "Congratulations to all the winners of this year's Enterprising Women Awards. These awards are all about acknowledging and celebrating their achievements.
"There are some very talented and hard-working businesswomen in Derbyshire, Nottinghamshire and Leicestershire who play a massive part in the success of their business but are often not recognised for their hard work and determination.
"These enterprising women make an important contribution to the local economy and their success stories will hopefully inspire other women to pursue their business dreams."