6 interview questions AND answers to help you nail the perfect job in the pandemic.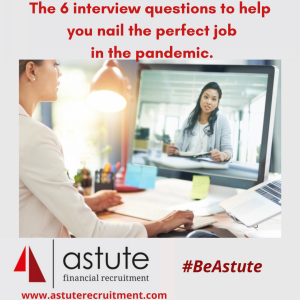 With interview requests and new jobs taken by our team at Astute Recruitment, it's great to share some pointers for candidates about to enter the job market to give them an edge on interview.
Imagine, you've been selected for a job interview! Well done! It's always great news, but especially so in such challenging times.  But preparing for a job interview might be trickier than usual, too.
It would be a little weird if you and your interviewer didn't acknowledge the global pandemic going on.
You'll probably be doing your interview remotely, online, at least the first interview, and it's also likely that you'll be starting work remotely.
The people and business you're interviewing with won't be operating as normal, plus you'll have to navigate different ways to work together.
Apart from the obvious,  (ensuring you're wearing smart clothes, and your Zoom background looks tidy & professional), preparing for an interview means being ready to answer some different questions. So, what can you expect to be asked?
1. How are you feeling?
It's normal to start off an interview with an icebreaker, but in the pandemic, small talk can take on a deeper meaning.
For an interviewer, it's a way to gauge the tone of the interview. Some candidates' replies might reveal they are struggling, whereas others will take the question much more lightly. In either case, there is no shame in acknowledging how the Covid-19 crisis is affecting you. The worst thing would be if a candidate came across as too disconnected from the situation, which could be a hint as to empathy skills or lack of.
The pandemic is impacting people emotionally, and for an employer to ask this question, shows they care. If you are asked this question, you should show you understand the situation and are adapting to it. You shouldn't just use the same answers that you had prepared pre-pandemic, as if you were still in a typical office setting.
2. How are you handling your work-life balance?
If you can keep a healthy work-life balance, it shows a potential employer that you're able to manage your time independently, and be organised.
Working from home is set to continue for a lot of us for the foreseeable, meaning employers are looking for these qualities,
Companies and hiring managers need to know that even if you don't have a team around you sitting in an office, you ARE going to be able to work by yourself, can be trusted to wfh independently and autonomously.
This doesn't have to mean that you're calendar-blocking each hour of your day. But this question is a prime opportunity to highlight how you can, and have been able to work productively.
In an online interview, it's an opportunity to also build a bond as you can reflect back a question to your interviewer, e.g."I've found it's key for me to factor in a 20 minute slot to excerise /walk the dog/ play with kids. I find this improves my feelings of wellbeing and makes me more focused and productive working for the rest of the day. What works for you?".
3. Have you learnt any new skills since March last year?
This isn't a trick question. Recruiters
wouldn't be put off if a candidate said they had struggled with motivation or finding time to learn at the beginning of lockdown.
Instead, they'd welcome and expect some  honesty about what they've learnt about themselves during the pandemic.
You don't have to pretend you've been on some kind of productivity marathon if you haven't. Of course employers will want to know if you've added any professional skills to your CV, but talking about hobbies you've picked up or personal lessons you've learnt helps to give interviewers a glimpse of your personality and a real glimpse of you.
For instance, what you learnt about yourself could be how you discovered a new skill or the ability to step back from something. It doesn't need to be professional, it can be something more personal.
But, how do you answer if you can't think of anything you've learnt in the past few months?
Something as simple as trying out a new recipe counts. Most of us have discovered some new culinary skills 🤣.
4. What's your 'work-from-home set-up like?'
Potential employers have every right to ask about a candidate's home working environment. Especially making sure that potential employees have a computer with internet access, that they have access to a telephone or a landline, and asking about the reliability of their wifi signal
Employers need to know that you have the equipment you need to do the job you are being interviewed for. However, they are aware that few of us have the perfect WFH set-up. Don't be afraid to mention any challenges you've faced working from home, and how you've found solutions to work around them.
This is a good question for employers to ask candidates to see how creative they can be, and how they're dealing with and have adapted to the current situation.
5. "We're all on Microsoft Teams/ Slack/ Google Hangouts. Have you used it before?"
Of course, if your interview is on a platform you haven't used before, you'll want to test it out beforehand to make sure you know how to use it.
It's also worth getting to know the main digital communication tools that are popular with businesses. Google Hangouts, Microsoft Teams, Slack and Zoom are all free to download and experiment with.
Some great advice to all candidates, is to be organised and prepared with the tech that they could be using if they are offered a job.
Lots of companies used digital communication tools before the pandemic. They're just using them even more now. If candidates are unfamiliar with them they should definitely look them up & try them out before interviewing for a new job.
For employees who have started looking for a job after several years, this is a really useful tip.
6. Do you have any questions for us?
Pre-pandemic and lockdown, candidates would go into the office, meet a couple of members of the team. They'd get all of the contextual information before being offered the job and deciding whether to accept it.
Now, with largely online interviews, applicants don't have all of the sensory, physical experiences through Candidates who have managed to get an interview aren't getting the complete view of companies they're applying for.
To counteract this, ask a lot of questions during your interview to get a clear idea of how the company works, the office culture and how you'll work with different teams and individuals.
For starters, ask questions about training, daily tasks and communication methods. It's equally important to ask about potential colleagues and hierarchy. This may mean clarifying who you would report to or who you can ask for help when you need it. Alternatively, it might mean taking a more informal approach to interviewing altogether.
A great suggestion for candidates is to ask, "If possible, could I have a virtual lunch with the team that I could be working with, just so I can get to know them—maybe not so much in a professional sense, but in a more casual, informal way?"
You could ask to have one-on-one meetings with potential future team members as part of the interview process. This shows you take the future culture of your potential colleagues seriously.
Companies should be understanding about these requests.
It's really key that candidates meet more people, especially now. Particularly so if companies add a few more steps to the recruitment process. This can give applicants the confidence to be happy if they go on to secure a job offer.
Remember, it's not just the candidate who has to adapt to the recruiter, but the recruiter who has to understand it's a different situation for applicants too!
If you have questions around this topic or would like more information about this or something else, feel free to contact our MD, Mary Maguire, by email on mary.maguire@astuterecruitment.com
An article by Mary Maguire, Managing Director
Astute Recruitment Ltd
Suite One, Ground Floor West, Cardinal Square, 10 Nottingham Road, Derby, DE1 3QT
T: 01332 346100
LI:  https://uk.linkedin.com/pub/mary-maguire/18/73/553