5 'astute' pancake recipes for Shrove Tuesday 'AKA Pancake Day'! – Whats your favourite?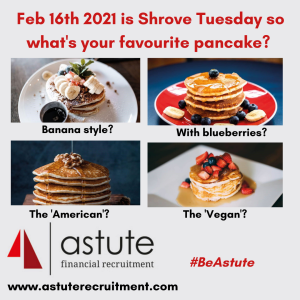 Pancake day always falls 47 days before Easter Sunday and this year it's on February 14th. As our team is busy walking, jogging, and cycling from John O'Groats to Lands End for our #miles4meals charity quest – they need all the energy they can muster, so here are 5 great recipes that they and you can enjoy!
That's one thing #wfh means! All of us can have great pancakes from the comfort of our kitchens!
PANCAKES FIVE WAYS: THE BEST PANCAKE RECIPES
PANCAKE RECIPES
We've narrowed a very long list down to our top five pancake recipes for you to try this year.
AMERICAN STYLE PANCAKES
Known as the traditional pancake that suits everybody's tastes, these American style pancakes will have you flipping these sweet treats all year round for every occasion!
To enjoy these – see our menu below!
INGREDIENTS
350g of plain flour
1 tablespoon baking powder
1 tablespoon caster sugar
3 eggs
230ml milk
50g unsalted butter, melted
1 teaspoon vanilla extract
METHOD
Whisk the flour, baking powder, sugar and a pinch of salt into a large bowl
Whisk the eggs, milk, butter and vanilla in a large jug
Make a hole in the centre of the dry ingredients and whisk in the wet mixture to make a smooth batter
Heat a large frying pan over a medium heat
Pour the mixture onto the pan in small pancake sizes – usually three pancakes to a pan
Cook for 1-2 minutes until bubbles break on the surface
Flip!
Cook for a further minute
Stack and serve

Wondering what toppings to include? How about trying the following:
SWEET
Coconut yoghurt and granola
Mascarpone, raspberries and passion fruit
Cream cheese and strawberry compote
SAVOURY
Ricotta, baby rocket, roast cherry tomatoes and balsamic glaze
Garlic mushrooms, fetta and chives
Fried egg and chilli sauce
BLUEBERRY PANCAKES
If you're looking for a thick, blueberry bursting pancake stack, look no further. These light, fluffy and fruity pancakes are a classic. We recommend serving them stacked up high with a big dollop of syrup and extra fruit – yum! Recipe below:
INGREDIENTS
200g self-raising flour
1 teaspoon baking powder
1 egg
300ml milk
knob butter
150g pack blueberry
golden or maple syrup
METHOD
Mix together the self-raising flour, baking powder and a pinch of salt in a large bowl
Beat one egg with the milk, make a well in the centre of the dry ingredients and whisk in the milk to make a thick smooth batter
Beat in a knob of melted butter, and gently stir in half of the pack of blueberries
Heat a teaspoon of butter in a large non-stick frying pan
Drop a large tablespoonful of the batter per pancake to make three or four pancakes at a time
Cook for about 3 minutes over a medium heat until small bubbles appear on the surface of each pancake
Flip!
Cook for another 2-3 minutes until golden
Serve with golden or maple syrup and the rest of the blueberries
BANANA PANCAKES
You've heard of using up your ripe bananas to make banana bread but don't forget they are perfect for pancakes, too! Possibly the easiest pancakes to make, you'll be 'flipping' crazy to ignore these fluffy, delicately flavoured cakes. Also taste amazing with whipped cream!
INGREDIENTS
135g of self-raising flour
35g of caster sugar
2 teaspoons of baking powder
1 egg
130ml of milk
35g of butter, melted
2 bananas, roughly mashed
1 pinch of salt
METHOD
Mix together the dry ingredients in a bowl
In a separate bowl mix the egg with the milk, melted butter and bananas
Mix the wet ingredients into the dry ingredients and stir until just combined. A few lumps here are ok, as if you overwork the mix your pancakes will be dense and heavy
Heat a frying pan over a medium heat with one tbsp of oil
Use a ladle to pour a little of the mix into the pan, you should be able to fit three at a time depending on the size of your pan
Cook until you see bubbles start to form in the pancakes and the undersides are a lovely golden brown
Flip!
Cook for a further minute
Serve straight away with freshly chopped bananas
VEGAN PANCAKES
Fluffy vegan pancakes? Yep – trust us. When you try these delicious dairy-free, egg-free and completely vegan pancakes, you won't even miss the milk, butter or eggs! Here's the recipe:
INGREDIENTS
300g self-raising flour
1 teaspoon of baking powder
1 tablespoon of sugar
400ml plant-based milk (such as oat, almond or soya)
1 tablespoon of vegetable oil for cooking
1 tablespoon of vanilla extract
METHOD
Whisk the dry ingredients and a pinch of salt in a bowl until mixed
Slowly pour in the milk until you get a smooth, thick batter
Heat a little of the oil in a non-stick frying pan over a medium-low heat
Add 2 tbsp batter into the pan at a time to make small, round pancakes
Cook for 3-4 mins until bubbles are appearing on the surface
Flip!
Cook for another 2-3 mins until golden on both sides and cooked through
Wondering what vegan toppings to include? How about trying the following:
Banana slices
Blueberries
Maple syrup
Vegan chocolate chips
Plant-based yogurt
COCONUT PANCAKES – UNDER 500 CALORIES
A great recipe that is a bit of a wild card to recommend: the coconut pancakes with strawberries and lime syrup. A tasty start to the day, these pancakes are under also 500 calories making them a healthier option for Pancake Day if you are trying to watch your waist line. There you go – our very own guilt-free pancakes!
INGREDIENTS
175g self-raising flour
50g dessicated coconut
1 teaspoon of baking powder
2 tablespoon of icing sugar
1 egg
300ml coconut milk
400g strawberries, halved or quartered
1 lime, zested and juiced
coconut oil
coconut yogurt
METHOD
Mix the flour, desiccated coconut, baking powder, 1 tbsp icing sugar, and a pinch of salt in a big bowl
Make a well in the centre and crack in the egg, then whisk a little
Pour in the coconut milk a little by little and whisk in too, until it's been mixed into a smooth batter
Put the strawberries in a bowl with the lime zest
Add the lime juice followed by the last tbsp of icing sugar
Toss together until the sugar has dissolved and the strawberries are slightly syrupy
Heat a tsp of the coconut oil in a non-stick frying pan
Ladle in small spoonfuls of the batter to cook three pancakes at a time
Flip!
Keep adding more oil and more batter, until all the batter is used up
Stack the pancakes between plates and spoon over the syrupy strawberries, then pile on some coconut yogurt to serve
Happy Pancake day from all of at Astute Recruitment Ltd!
Have lots of fun and do share any photos and your own recipes!