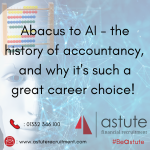 From Abacus to AI – The history of 'Accountancy' and why its a great career choice!
As a leading provider of accountancy staff, we look at what does accountancy mean, it's history and importance to businesses today. Plus we explore the huge variety of careers available in the accountancy profession, and why accountancy really is a great career choice! We've included some great, useful links at the end too! […]
View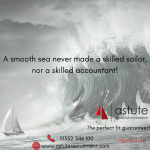 A smooth sea never made a skilled sailor, nor a skilled accountant!
"A smooth sea never made a skilled sailor." A great quote by FD Roosevelt. We feel that the same applies to accountants. It's through the turbulent times though that we learn, in life and at work. When things don't go quite as planned, we have an opportunity to learn, to become a better sailor – […]
View