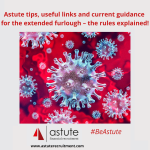 Astute tips, useful links and current guidance for the extended furlough – the rules explained!
So, as we find ourselves in another Lockdown, what is the advice for employers and their employees on this adaptation of the Government's original Furlough Scheme? Here, we try and break these down and provide some useful links for more detailed advice and webinars. HMRC have published full revised guidance about the […]
View
Great news, over 300 Business, Finance & HR professionals have booked onto our latest webinar with John McCarthy, OBE!
Last year, almost to the day, we were delighted to host another of our business breakfast's with Mr John McCarthy as our guest speaker. We hosted the event at the fabulous grounds of Derbyshire County Cricket in Derby and welcomed over 75 people from local East Midlands businesses. John spoke passionately about his experiences […]
View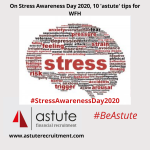 On Stress Awareness Day 2020: Our 10 'astute' tips for working from home
As England heads into a second national lockdown, we provide some tips for working from home during this stressful time, and hope this helps those feeling anxious, worried or struggling generally. Stress Awareness Day, falls today, 4th November 2020. It was created by the Founder of International Stress Management Association (ISMA) Carole Spiers […]
View