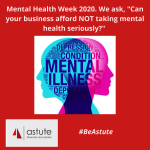 Mental Health Week 2020. We ask can your business afford NOT to take mental health seriously?
Mental Health Week Can Your Business Afford to Ignore Mental Health? We investigate the key impacts, costs, AND savings to companies of mental health at work. Mental health has increasingly been highlighted as a key factor in business and employee performance, success and productivity. This year's Mental Health Week has special […]
View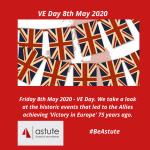 Friday 8th May 2020 – VE Day. We take a look at the historic events that led to the Allies achieving 'Victory in Europe'.
Astute Recruitment Ltd explores VE Day 2020 uncovering the historic events that led to VE Day 75 years ago Today people in countries across the globe are fighting a very different war with a very different foe. Fitting then that on the 8th of May 2020, we celebrate VE Day, but not […]
View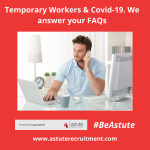 Coronavirus. We give the answers to temporary workers FAQs.
Coronavirus (COVID-19) We have put together the most frequently asked questions by temporary workers to help you keep safe, healthy and take the best precautions in the current lockdown. Q: What protective measures can I take to prevent possible contraction of COVID-19? Follow the guidelines outlined on the UK Government's website HERE. In summary, the […]
View