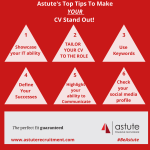 Astute's Top CV Tips To Make Your CV Stand Out!
Here are some of the latest top tips and suggestions to help ensure your CV is destined to help steer you to the job of your dreams. 1/ Highlight your affinity with technology. Nearly all jobs now require some […]
View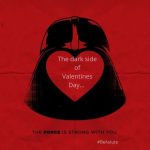 The Dark Side of key dates in the year. Why we all need to be mindful of work colleagues, friends and family every day.
The social media and pressures in general forced upon someone who was actually very fragile, resulted in tragedy for Caroline, her friends, and family. Her death also served to highlight as a warning for all of us that whilst dates in the year like Valentines Day have typically become a day of 'lurve', joy and […]
View
More Award Success for Astute Recruitment!
Our MD, Mary Maguire, was delighted to receive the award for "Most Influential Woman In Financial Recruitment 2019" by CV Magazine. Here's what Mary had to say about this achievement: – "I'm so thrilled to be awarded "Most Influential Woman In Financial Recruitment 2019″! Those that know […]
View